Heartless: Shaking Hands with the Devil
Clémence Poésy

Jim Sturgess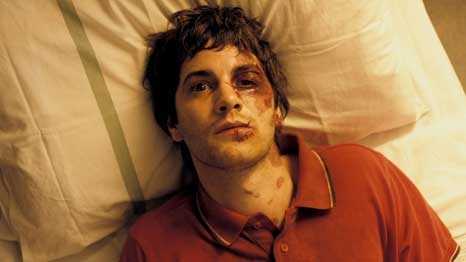 At first, Heartless feels like
another low-budget film that cinema theatres in Cairo use as cheap schedule
fillers. And although the film is a humble British production; it's far from a
cheap exploitation flick or an inferior imitation of successful genre hits. Heartless is a moody experiment that
blends the prestigious sensibilities of art-house panache with the heinous gore
of torture porn to form one atmospheric nightmare.
Jamie (Sturgess) is a dejected young man born with a birthmark on his
face in the shape of a heart. He captures images of fleeting beauty with his
film camera and lives vicariously through them. His deformity withholds him
from living life to its fullest and experiencing love; leaving him all alone and emotionally vacuous.
On a night of aimlessly roaming the streets of London, Jamie comes
across a gang ruthlessly beating up an innocent passerby. Upon closer
inspection, he finds that the group appears to be of demons. Jamie flees the
scene of the crime, but the demonic images haunt him.
Later, Jamie finds himself before Papa B, the leader of these hellish
minions. Papa B offers to relinquish Jamie's birthmark if he joins his army to wreak
havoc on the streets of London. Jamie agrees; driven by his desire to attain
the love of Tia (Poésy), the one girl that he can never stop thinking about.
Sturgess (Across the Universe)
carries most of the film on his own. He does a decent job, grounding his
character in the film's reality even though he spends most of his onscreen time
with his head hidden in his hoodie. He has to wear lots of hats to sell himself
as a tormented soul, someone who's scared to death; while wriggling some
romance and light comedy out of the film's downtime.
Heartless starts off as
a stylish melodrama, and then slowly builds up in darkness until it crosses
into a harrowing hell complete with blood, guts and daunting imagery. The film uses
the horror formula stylistically as an allegory for existential themes. The
visual metaphors layered on top of distressing horror scenes add more weight to
the film in a bizarrely effective way.

Heartless
sounds like an ill-advised mishmash of uncomplimentary elements; yet it
works.