How to Train your Dragon: Visually Captivating for the Child at Heart
America Ferrera

Gerard Butler

...

Chris Sanders

Dean DeBlois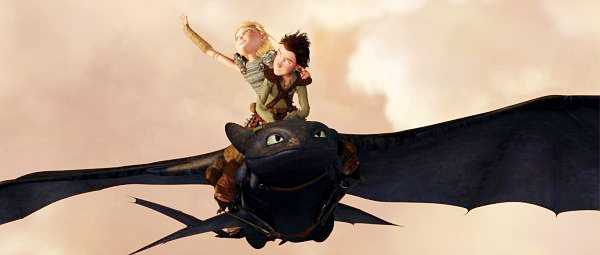 Throw on your 3D glasses and allow your imagination to soar with the latest animation film by Dean DeBlois and Chris Sanders, the directing team that also worked side by side on Disney's Mulan and Lilo & Stitch.
In their latest venture into the 3D animation world, How to Train your Dragon revolves around Hiccup Horrendous Haddock III (Buruchel), a young and immensely sweet young boy who has the ultimate dream of joining the Viking ranks alongside his father, Stoic the Vast (Butler). In the eyes of the humongous and steaming-attitude Stoic, young and clumsy Hiccup is not good enough to gain the Viking horns, and is better left to wield swords and stay out of Stoic's way.
Taking place in a Viking village called Berk, the film guides you through Hiccup's fight against disenchantment, evil and the ironies of life experienced by the 10-year-old boy that can apply to anyone, no matter the age.
The small yet brave Hiccup sets out on a personal journey that takes his quest to become a dragon-fighting Viking down a completely different path. The illuminating discovery that Hiccup stumbles upon not only changes his perspective on the Viking vs. Dragon world but burdens him with the responsibility of enlightening his community, which is bound to never listen.
In the meanwhile, Hiccup's love for Astrid (Ferrera), a female Viking-in-training, keeps a lighthearted twist on an otherwise tumultuous and heavy journey for little Hiccup.
From Hiccup's fight against the village's ignorance to his surprising friendship formed with the Night Fury dragon, who he names Toothless, Hiccup's journey is bound to enthral you with the young boy's determination and courage to bring peace between both sides of Hiccup's new found world.
The cinematography is empowering at times, including the incredible flying scene where Hiccup is mounted on the back of Toothless, flying through beautiful landscapes of a lush valley and bouncy clouds. Intricate details and textures are used throughout the entire film, leaving you reaching out for a feel, from the single strands of hair woven into Astrid's braids to the wrinkle lines revealing the intensity of Stoic's life.
While the ending might possibly tug at your emotions, How to Train your Dragon is capable of pulling you into the absolute beauty of a child's imagination, which is often times squelched. You're left wanting to be engaged with your childlike self and noticing the creatures around that we often forget about; from the tiniest of bug to the most gargantuan of dragon. Allow yourself to be there and take part in Hiccup's story that is bound to teach you one thing or another.