Maleficent: Sleeping Beauty Re-imagined
Angelina Jolie

Elle Fanning

...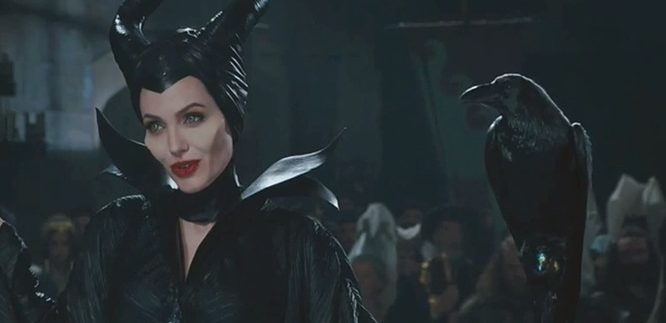 If you think you know the story Walt Disney's Sleeping Beauty, think again. Think of Malificent as the 1959 classic, but told from a different perspective – that of the title character and antagonist in the original.
Set in a far away fantasy world where two realms – one inhabited by man and the other populated by fairies and other earthly creatures – are sitting opposed to one another with the humans – ruled by King Henry (Cranham) – wanting to destroy the other side and rule both worlds.
One day, after being caught stealing, a young boy named Stefan (Higgins) accidentally stumbles on kind winged fairy, Maleficent (Molloy), who instead of punishing him for his crimes, decides to befriend him. The two are quick to bond and as time passes, their friendship turns into much more. However, as they grew older, they eventually go their separate ways with Stefan (Copley) turning into a greedy man wanting to overthrow the king and Maleficent (now played by the spectacular Jolie) assuming her role as the protector of her land.
It's not long before the King marches into battle, however, and Maleficent – now an extremely powerful force to be reckoned with – is determined not to go down without a fight and quickly manages to defeat his army of men. Unfortunately, though, the worst is far from over when Stefan – in order to prove his worthiness to the throne– betrays Maleficent in the worst way possible, causing her to seek revenge the only way her broken heart knows how.
Written by Alice in Wonderland's Linda Woolverton, the story is told entirely through the eyes of Maleficent; the self-proclaimed Mistress of Evil and one of the most celebrated Disney villainess of all time. It's a modern twist on a classic tale which cleverly introduces new perspective and a much darker side to the story.
With her razor-sharp cheekbones, scarlet-red lips and a captivating glare, it's pretty safe to say that this is a typical icy Jolie performance through and through. Jolie glides through the story effortlessly and her presence – which serves as a front to a woman with a broken heart – brings a lot of depth and gravitas to the fictional tale. Unfortunately, the rest of the cast faid into the background which includes Fanning as the sweet but foolishly naïve Princess Aurora and Copley as the overly-theatrical Stefen.
Directed by the famed production designer, Robert Stromberg the set design is nothing short of magnificent, though the CGI falls into typical cutesy mode at times.
Nevertheless, Maleficent still manages to impress; creepy, enthralling and wonderfully enchanting, this latest revisit to the far-away land of Sleeping Beauty is definitely worth a watch; for and her enigmatic performance as a character we all learned to hate.