Planes Fire & Rescue: Improved Sequel of Animated Spin-Off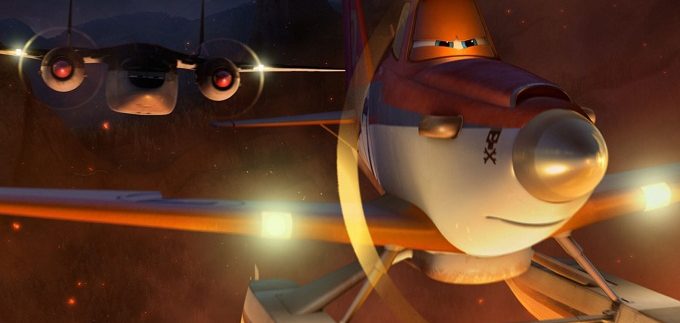 DisneyToon Studios certainly didn't waste any time before knocking out a sequel to 2013's Planes; the relatively profitable spin-off of the popular animated series, Cars. With only a year since the first film, Roberts Gannaway's Planes: Fire and Rescue manages to slightly expand on the simple premise and proves to be a definite improvement over its predecessor.
Scripted by Jeffrey M. Howard, the sequel catches up with the crop-dusting champ, Dusty Crophopper (voiced by Cook); a champion air racer who now faces the possibility of never racing again due to his reductive gearbox flopping and breaking down and the manufacturer discontinuing his model-type.
While his friends – Skipper (Keach), Dottie (Hatcher) and Chug (Garrett) – work extremely hard on finding the needed part, Dusty decides to go off and train with an elite Fire & Rescue squad, in order to assist the aging fire and rescue truck, Mayday (Holbrook).
However, before he can officially join the team at Piston Peak National Park, he must first pass the test – and acquire the certification – from Blade Ranger (Harris); a veteran helicopter haunted by a troubled past. Before long, Dusty's talent and skills are put to the test when a massive forest fire threatens to destroy a well-known landmark resort; can Dusty prove that he's got what it takes?
While the first film was considered nothing but a quick cash-crab on the lucrative Cars film franchise, the second instalment proves that there is something there after all. The technical improvement in the animation department is a definite step-up; the colours are livelier, the action sequences thrilling and there is a sense of general cheerfulness throughout. The story, however, is still as simple as they come – despite a handful of unrealised subplots – and the characters seem somewhat unadventurous and thinly-drawn.
The entire cast offered relatively decent voice support – despite the script's shortcomings – and although Cook, who returns to reprise his role as Dusty, is still supposed to be the star of the picture, he is overshadowed by Bowen, as the flirtatious Lil Dipper, who offers most of the laughs.
Planes: Fire and Rescue offers a fun and a generally undemanding viewing experience; inviting and simple, it's a technically advanced addition to DisneyToons' ongoing animation repertoire. The kids will love it, but the adults will likely not.