Poker Night: Gruesome Cop Thriller
Beau Mirchoff

Corey Large

...

Mystery & Suspense

Thriller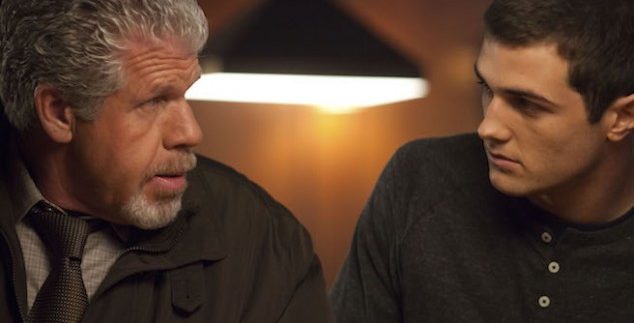 Boasting a decent cast and kicking-off with an engaging set-up, Poker Nights is a brash thriller that gets bogged down by its own ambition. Written a directed by Greg Francis – known mostly for his work on TV – the film tries to pull off too many story threads that end up getting tangled into one big, puzzling knot.
Set in Warsaw, Indiana, the hero of the piece is Jeter (Mirchoff); a young rookie cop who's constantly looking to prove himself amongst his more experienced senior peers and gets a chance to do so when he is invited to a weekly poker game – like some kind of rite of passage.
There, shady detective, Calabrese (Perlman), and veteran officers, Bernard (Esposito), Davis (Large), Cunningham (Eldard) and Maxwell (Welliver), share grizzly war stories – as well as a few tricks of the trade – intended to 'educate' Jeter. After leaving, the youngster is randomly attacked and taken hostage by a masked stranger, who tortures him, while also holding his girlfriend, Amy (Sage), hostage elsewhere.
As ridiculous as the plot may sound, Poker Nights does have its moments – the fusion of crime, horror and dark comedy makes for a novel watch. However, the overall execution – or lack thereof – is what tips the scales to absurdity. The use flash-back and a non-linear plot – a Tarantino trademark better left to the experts – ends up taking all of the mystery and intrigue out of the equation, leaving behind a flat and unexciting tale of torture.
Minus the overacting and the unnecessary theatrics, the veteran cast is well-suited for their tough-cop roles and manage to do provide a certain degree of vigour to what are familiar character-types. That is except for Mirchoff, who's most famous, possibly, for his role as a clueless but hunky jock in MTV high-school comedy series, Awkward, as well as a run on Desperate Housewives. The twenty-five year-old Canadian sticks out like a sore thumb in the gritty backdrop of the film and, in coming across as a little arrogant, gives little reason for audiences to root for him.
Bloody and, on occasion, excruciatingly tedious, Poker Night seems to have been conceived in a twisted and unbalanced mind – the good kind – but fallen into equally twisted and unbalanced hands – the bad kind.