Reklam: Shallow & Exploitative Film about Prostitution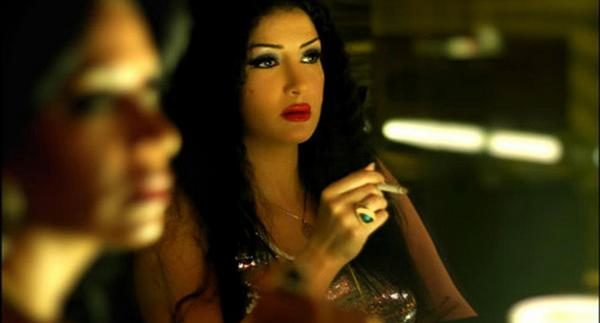 Reklam interweaves the
stories of four women; Shadia (Abd El Razek), Dawlat (Youssef), Shokreyya (Seif
El Nasr) and Suzy (Khattab). They either come from abusive households, are in
desperate need of money or both. They lead very depressing lives in which the
guys they meet completely screw them over. Heartbroken, they all end up at the
same cabaret working for the same Madame where they slowly graduate from
dancers to prostitutes. After a while, they revolt against her because she
takes far too big a percentage of their profits. They kick her out of the
cabaret and effectively put her out of business. In retaliation, she sets up a
trap wherein she gets the police on them while they're all in a villa servicing
a bunch of guys.
Reklam tackles domestic
violence and prostitution, two taboos that impact many women's lives, in a way
that is both simplistic and disrespectful. It oversimplifies the issue of a
complete lack of safety net for abused women and those with economic
difficulties. It glosses over a patriarchal and misogynistic mindset that
claims that women, no matter how old they are, are subordinate to their male
family members. It acknowledges that men treat women as sex objects then goes
on to linger over their breasts and bum, dicing them up for the viewing
population.
The four characters' reasons for going into prostitution are very
similar when this could have been an opportunity to go beyond the
women-go-into-prostitution-to-make-bank mindset. It doesn't tackle addiction,
sex slavery or anything of the sort, glamorising the profession and portraying
it as a parade of short dresses, cleavage and reams of money. On the positive
side, the transitions between the story lines are pretty neat and Youssef is great
as Dawlat. She alone manages to bring a sense of humanity to her role and come
across as more than just a shallow stereotype. While Abd El Razek is adequate,
both Khattab and Seif El Nasr are downright awful, the latter in particular who
seemed to be chosen more for her dancing skills than any discernible acting
talents.
Making a film about abused women isn't impossible. It just requires the
filmmakers to respect the characters and for these characters to be well
rounded. They have to be presented as more than just passive victims. While the
film doesn't really blame the women for going into prostitution, focusing on
their victimisation removes their agency and is equally detrimental. As it is, Reklam feels like caricatures of
oppressed women and the domestic violence and rape scenes feel highly
exploitative. When around a third of the women in this country have been
subject to domestic violence (according to the 2005 Egypt Demographic and
Health survey), having a film come along that eroticises their lives while
paying lip service to their rights is downright wrong.