Rock of Ages: Legendary Musical Goes Hollywood
Alec Baldwin

Catherine Zita-Jones

...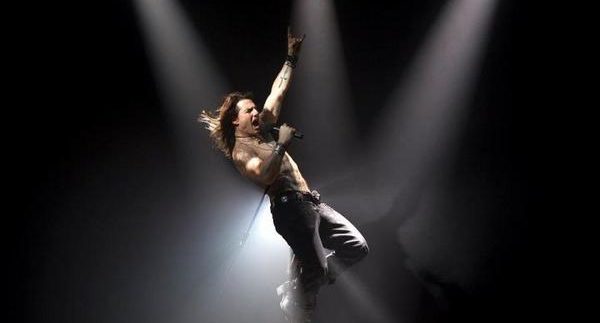 Sherrie
(Hough) and Drew (Boneta) work at the Bourbon – the biggest club on the Sunset
Strip which is unfortunately in dire straits – while entertaining visions of
rock and roll fame in their heads. Stacie Jaxx (Cruise), the biggest rock star
in the business, is scheduled to give a show at the club which could solve all
of its financial woes and save it from the Mayor's wife (Zeta Jones) desire to
shut it down. Due to a last minute cancellation, Drew gets the chance to open
for Jaxx and his sudden brush with fame drives a wedge between him and Sherrie.
They both quit work and find themselves going against everything they believe
in and Jaxx battles with his soulless manager (Giamatti) and struggles with his
fame, while Dennis (Baldwin), the club's owner, tries to keep it afloat.
When
we heard Adam Shankman was behind bringing the hit Broadway musical to the big
screen, we were pretty optimistic. He's the guy behind the most recent
adaptation of Hairspray and knows his
way around cheesy, feel good musicals. Unfortunately however, Rock of Ages isn't nearly as good as Hairspray
and we're inclined to pin the blame on the director, choreographers and
screenwriters.
The
cast, with the exception of Mary J Blige, definitely weren't chosen for their
rock chops – the vast majority of them have thin, reedy voices – and for God's
sake, Julianne Hough is a dancer; let her dance. All in all, there isn't nearly
enough dancing and the choreography is woefully weak.
As
for the music, if you're the kind that believes that rock and cheesy musicals
shouldn't mix, don't come within ten feet of this film. If, however, you're ok with
hair metal i.e. the cheesiest era ever known to rock, hearing the songs is
going to be fun – even if the covers
aren't that great. The songs are best sung in a concert setting with the few scenes
in which people spontaneously burst into song and dance are hit or miss; a
pretty egregious example come in the form of Zeta Jones and a posse of conservative women
thrusting to Pat Benatar's 'Hit Me With Your Best Shot'. Again, this isn't Zeta
Jones' fault; she was incredible in Chicago
and can both sing and dance with the best of them.
Cruise
is the film's highlight. He has the whole jaded, egotistical rock star thing
down to a tee, and makes the rather awful script, which includes some gems such as
"Doing taxes is so-un rock and roll", sound a lot less bad. Baldwin and Brand
make a great team and are pretty hilarious together, though Baldwin can't sing
to save his life. Hough and Boneta are nothing special but they have good
chemistry and are fun to watch. And while they're both adequate singers, Hough
is a better actress than her co-star.
The
film looks exactly the way you'd expect a Hollywood musical set in the 80s to
look; shiny, colourful and over the top. Despite being a star studded affair, Rock of Ages probably won't be much fun
for viewers who don't already have a love affair with either cheesy musicals or
hair metal – preferably both.