She's Out Of My League: Beauty and the Geek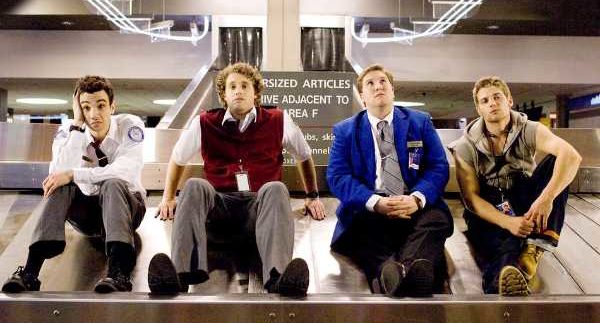 Down-and-out but lovable Kirk (Baruchel) as a suitor for Molly (Eve) is a tough story to sell, and not
just because Molly is a knockout who would make a Victoria's Secret model
reconsider her career options; the real reason we don't buy it is that there is
nothing remotely redeeming about Kirk's lack of ambition. As the antihero of She's Out of My League, Kirk has long since
settled into a dissatisfying and lackluster life, with a dead-end job as an
airport security officer and zero resolve to strive for more. Even when gorgeous Molly practically throws
herself at him, he resists, before pointing out how ridicules her romantic
interest in him is – and it is, even for the most far fetched of films.
The unlikely
couple first meets when Molly accidentally leaves her cell phone at the
security gate where Kirk works. He tracks her down to return the gadget and she
invites him to a party to thank him, where the two bicker and giggle, and
apparently hit it off. Kirk has no problem staying collected; he reads Molly's
interest as merely being nice. So when Molly asks him out on a date, and then
another, he gets a little suspicious. With nothing to lose, Kirk plays along, but he can't shake the feeling that he's an impostor.
The film
brings us a novel concept, meant to be reassuring, but She's Out of My League plays more like a 90s romantic comedy than a
raunchy Apatow romp. And that's why it falls short: it's too sweet for its own
good, so nice it finishes last, and worst of all, it is sorely disingenuous. As
a comedy, it's feeble at best. The film gathers all its strength to deliver a
single scene in which Kirk's chubby pal tries to help him prepare for his evening of romance, with embarrassing and disastrous results. In more capable hands, this
could have been a funny exercise in gross-out comedy, but first-time director Jim
Field Smith's technique is to emphasize awkwardness, often making viewers cringe a little too much.
While the script is
as tedious as they come, Smith does manage to create a few outrageous highlights, with some very rare entertaining moments.
Jay Baruchel is genuinely a funny guy, who's apparently gifted at making odd
role choices – see The Sorcerer's
Apprentice for an unbelievable glimpse of Baruchel amidst cinematic magic
fireballs and spells. If his character wasn't so neurotic and obtuse, we might
be able to wrap our heads around Molly's infatuation. At least the
film is harmless and mildly funny – just remove a few unfortunate scenes
and you've got a perfect candidate for a satellite channel viewing.