The Boxtrolls: Fun & Quirky Stop-Motion Animation
Ben Kingsley

Elle Fanning

...

Anthony Stacchi

Graham Annable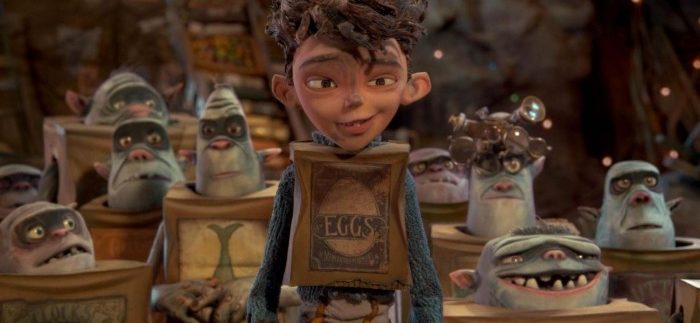 If you've enjoyed the type of quirkiness in 2009's Coraline or the creepy-goofiness of 2012's ParaNorman, then The Boxtrolls – the latest stop-motion creation and an adaptation of Alan Snow's Here Be Monsters! novel – might be right up your alley.
Directed by Graham Annable and Anthony Stacchi, The Boxtrolls is set in a Victorian-like city of Cheesebridge. The residents, through scary and gruesome fables, believe there are deadly Boxtrolls living underneath their streets.
When a human boy goes missing, it is believed that the scary monsters from down-under have eaten him. Archibald Snatcher (voiced by Kingsley) – a sneaky pest exterminator – offers to go in and eradicate the threat himself, in the hope of gaining access to the elite society known as White Hats. However, the missing boy in question is in fact an orphan named Eggs (Hempstead-Wright), who has been living with the the so-called monsters ever since he was two years old and, just like them, he now spends most of his time collecting recycled trash and building various devices and gadgets out of them.
Luckily, Eggs and his faithful buddies are more than capable of staying out of trouble and far away from Archibald's menacing grip; that is until, Eggs – a boy who is part-human and part-Boxtroll – lays his eyes on beautiful young human girl, Winnie Portley-Rind (Fanning), and instantly falls for her. However, Eggs begins to learn the hard way that his infatuation with her is going to cause him problems.
The latest production to come out of Laika studios – a renowned stop-motion animation company specialising in feature films – is another unique and quirky addition to the company's filmography. Dark, whimsical and delightfully unconventional, The Boxtrolls sings to its own tune and succeeds in creating an original setting and a story that stays unique to Disney and Pixar. The time and effort that went into creating the world of Cheesebridge – and all of its peculiar, British-speaking residents – is evident.
Led by Game of Thrones' Hempstead-Wright – better known as Bran Stark of Winterfell – the performances were equally solid and although Eggs could have had a little bit more spring to his step, it was Kingsley – as the deliciously evil exterminator – who steals the show along with Frost, Ayoade and Morgan, who provide the voices for Archibald's thugs.
The Boxtrolls; it's by no means groundbreaking, but it is an incredibly fun and unusual watch.