The Collector: A Claustrophobic Blood Fest
Josh Stewart, Madeline Zima, Karley Scott Collins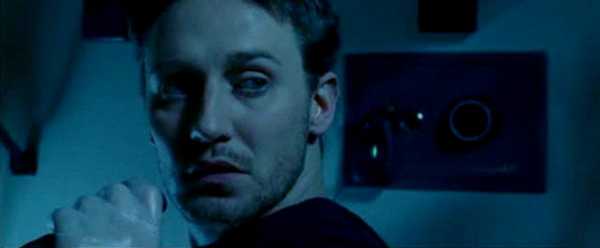 You hire a handyman to install doors in your
new house in the middle of nowhere, and after he's done; you notice that he's lurking
around. You grow a little suspicious, yet you give him the benefit of the doubt.
You were wrong. That was no handy man; that was a burglar sizing up the house
so that he can return later on to steal your valuable possessions.
What the burglar Arkin (Stewart) isn't
prepared for is to return and find the house overtaken by a mad and masked
killer called the Collector. Arkin steps inside a house full
of death traps; and he finds himself in the strange position of having to save
the family that he's trying to rob. There isn't enough time to understand or
assess the situation; so Arkin becomes a stealth crawler creeping around the
big mansion trying to save helpless victims from a horrifying end.
The
Collector is the latest
torture porn offering to grace our big screens. It sits comfortably at the
lower end of this genre's bloody spectrum. The film's only concern is to
deliver a few gut-wrenching and gory scenes of disembowelment; suspense, plot
and logic are not a priority. The biggest flaw of the film is its silent
killer. He isn't as devious or crafty as Saw's
Jigsaw; the Collector simply collects because of his name. He doesn't operate
under a bigger plan or try to prove a point; he's just a faceless prop with a
knife and a thirst for blood.
The Collector's lack of character is compensated by Arkin's urgent drive. Rarely would the victim in a horror film be more
compelling than the terrorising slasher, but that's the case with The Collector. Stewart's
performance manages to emphasise Arkin's duality as a
crook and a caring human being.
What the film manages to do with its humble
budget is impressive; the photography is moody and the gory effects are… well,
they are effective. By the end, the film takes enough twists and turns to
deliver a satisfying finale. And while The
Collector won't be giving
birth to a new classic horror franchise anytime soon; it gets the dirty job
done.