The Double: A Cliché Thriller
Martin Sheen

Richard Gere

...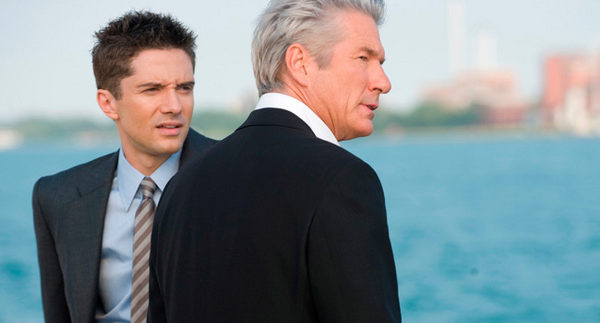 Paul
Shepherdson (Gere), an ex CIA agent, is brought out of retirement to finish off
an old case that belonged to him. Back in the day he'd managed to capture all
but one of the Cassius 7, a group of seven Russian assassins led by an
unidentified man codenamed Cassius; whose preferred mode of killing is slitting
his victims' throats with a wire. Now years later, Cassius, long believed to be
dead, is back and has killed a senator to prove it. Assisted by an overeager
FBI agent named Ben Geary (Grace), Shepherdson tries to solve the senator's
case while being completely convinced that the murderer is an impostor and not
Cassius – who he believes, beyond a doubt, to be dead.
The
film gives off the impression that everybody involved is operating on
autopilot. All the characters are incredibly one dimensional; in both acting
and dialogue. Richard Gere's face is frozen in a blank expression for most of
the film, though when he does let go he's quite entertaining; Martin Sheen
looks completely irritable; Topher Grace comes off as an annoying,
overachieving college student; and the Russians the duo keep chasing are
practically interchangeable.
But again, the problem isn't only with the actors.
The dialogue is repetitive and basically consists of Shepherdson explaining to Geary
that writing a thesis about the Cassius 7 case doesn't give you deeper insight
than actually living through it. They have this same conversation over and over
again, just to make sure we understand how incredibly naive Geary is. And while
we're on the subject of repetition, upping the colour contrast to indicate a
flashback is a gimmick that has to be retired; it's been done to death and often
just looks strange. Besides, aren't memories usually hazy?

Luckily
for our attention spans, the film does have a few car chases, murders and
fights; Gere actually makes a convincing action hero. Unfortunately, the film's
twist is given away before we're even halfway through. While this does add
another dimension to the storyline and gives it a bit of a psychological
subtext, it also gives Grace a bigger role but since his character is so unpleasant,
the film falters whenever he's onscreen. In fact the only reason we half
heartedly cairorevamp_user for Geary is because his wife, played by Odette Annable, is
completely adorable.
The Double feels like a mishmash of every other thriller with
Russian bad guys. It's as though the filmmakers went through the motions,
hitting every point on their checklist, while forgetting to add something that
would make it fun. On the bright side though, at least the villains aren't Arab
terrorists, though we can't imagine the Russians are too happy with their de
facto villain status either.