The Hundred-Foot Journey: Charming Romantic Drama for Foodies
Charlotte Le Bon

Helen Mirren

...

Lasse Hallstrom

Lasse Hallström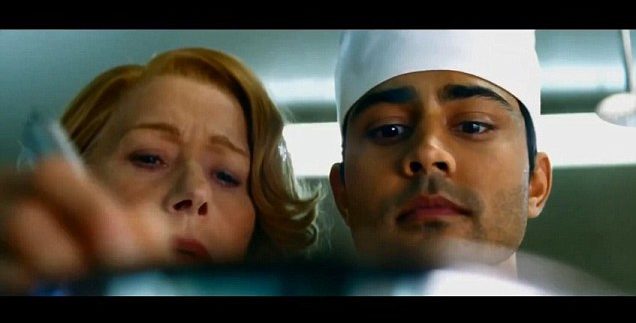 Lasse Hallstrom's latest onscreen efforts – following his generous offering in 2000's Chocolat – is yet another delicious treat that celebrates the power of food and the importance of family traditions in the predictable but exceptionally charming, The Hundred Foot Journey.
The story is centred on the Kadam family from Mumbai, who, after having experienced a personal tragedy and the loss of their beloved family-run restaurant, decide to flee to Europe in search for a better life. However, after failing to make it in the cold British weather, the Kadams, led by Papa (Puri), decide to head further south.
The family of six, which includes Hassan (Dayal) – a young aspiring chef – soon stumble upon a small village of Saint-Antonin-Noble-Val, located in the south of France. Immediately taken in by its small-town charm, Papa decides to explore the village and after laying his eyes on a piece run-down of property, he decides that his family will settle and try to reopen their family restaurant.
After many objections from the rest of the family – who believe that the French are not accustomed to Indian cuisine – the rebuilding soon begins; however, problems soon arise when they learn that their new restaurant is located exactly one hundred feet from a Michelin-starred restaurant run by uncompromising food-snob, Madame Mallory (Mirren). Naturally, she isn't too welcoming of competition.
Let's get one thing out of the way first; it is highly advisable not to go on The Hundred-Foot Journey on an empty stomach. If you do, know that it is at your own risk.
Adapted from the pages of Richard C. Morais' novel of the same name – and produced by the unlikely pairing of Steven Spielberg and Oprah Winfrey – the story is very, very simple. Regardless of its rather predictable and sometimes overly-sentimental premise, however, it manages to create an inviting world that is pretty hard to resist. Easy on the eyes, the refined and somewhat old-fashioned cinematography – which embellishes most of its shots with a sun-kissed glow – adds to the overall experience and manages to awaken and breathe life into everything it touches.
Mirren, who seems to have mastered the French accent pretty well, shows great versatility in her role of the icy restaurant owner whose hard-as-nails exterior slowly begins to melt away as the minutes go by, while Puri, as the sensitive and the exceptionally stubborn father determined to make it, is simply irresistible.
However, it's Dayal as the passionate chef who serves as the secret ingredient to the mix and although his romantic attachment to a sous chef named Marguerite doesn't really translate all that well, he still manages to carry and convey Hallstrom's obvious passion and love for food to an audience who will more than likely be summoned to stop by for a quick Chicken Tikka Masala on their way home.