The Karate Kid: A Welcome Remake
Jackie Chan

Jaden Smith

...

Action & Adventure

Drama

...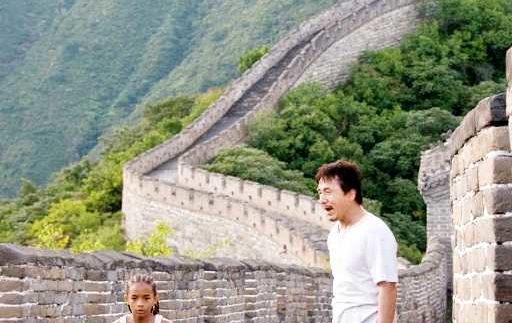 This reviewer admits to never
having seen the 1984 classic The Karate
Kid; so a fair comparison could not be made. Nonetheless, a depleted remake
gives itself away, and the new Karate Kid
is a great example of an update that works on its own. It's no instant classic,
but kids are going to find it empowering and engrossing, in much the same way that
kids in the eighties found the original. And for the grownups, the new Karate Kid offers over two hours of
harmless fun that doesn't play it down.
Jaden Smith as Dre Parker is
the new unlikely hero; the young Smith may not have as much charisma as his
father, but he's clearly on the right path. Never acting like an adult, he
seems comfortable with the fact that he's a 12-year-old kid and uses his childish
charm to his advantage. Dre moves to Beijing with his mother (Henson), escaping the drudgeries of Detroit to start a
new life. He's not happy about the move and he pleads with his mother to go
back home. However, he is forced to face the reality of this new life, home and
mild culture shock.
Dre then meets a cute
Chinese girl in his class who plays the violin, and the two of them develop a
crush. However, another boy likes the talented violinist; one who is bigger, tougher and a whole
lot meaner. The two get into a fight and Dre ends up getting beaten to a pulp. The good news is that Dre's handyman, Mr Han
(Chan) is not just an eccentric
old fellow; he's also a great Kung Fu teacher that takes Dre under his wing to train
him for the film's climatic showdown at the Kung Fu tournament.
The 2010 Karate Kid is brutal, ruthless and quite
the entertainer. The fight scenes can match the intensity of any adult martial
arts film. The bad guys are a bunch of kids that belong to a morally
questionable dojo; they are so believably menacing, that their performances give
stakes to the final showdown. Chan downplays his usual spastic
persona and offers a new kind of mentor, wise yet not above it all; Ying and Yang
as the Chinese say.

There is a sense of wonder about the Karate
Kid that has been missing from
family films lately. Heroism went a little out of fashion recently and instead cynicism
became trendy. Maybe it's the 80s nuance, or the mesmerising Chinese landscapes;
but the film offers a fresh take on these classic ideas. Karate Kid reminded us why it matters to stand up and face the
music.