The Sorcerer's Apprentice: Big Spectacle, Little Magic
Jay Baruchel

Monica Bellucci

...

Action & Adventure

Comedy

...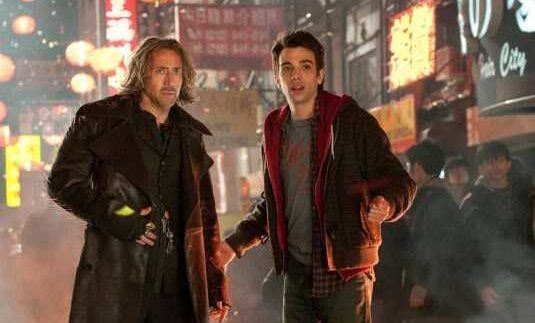 The Sorcerer's Apprentice is based on a peculiar Mickey
Mouse cartoon, which in turn is based on an old symphonic poem. Since neither
the cartoon nor the poem had enough story to populate an entire film, producers resorted to the hope chest of story clichés to hold the
film together.
The film
begins in the year 740 AD. An old wizard appoints three students to pass on his
magical knowledge to: Maxim Horvath (Molina), Balthazar Blake (Cage), and
Veronica (Bellucci). Horvath falls in love with a nefarious witch, who wants
him to steal a secret spell for her; a spell that will wake all the evil spirits
on earth and end life as we know it. Horvath and the witch kill the old wizard,
but before they can cast the evil spell, they (along with Veronica) get trapped
inside a nesting doll.
Blake
spends the next millennia guarding the doll and searching for a prophesised sorcerer;
one who has the ability to stop the evil spell before it creates any permanent
damage. By the 2000s, Blake finally finds the young magician (Baruchel), who
not only accepts his apprenticeship offer, but also unleashes Horvath.
All this gets
covered within the first fifteen minutes of the film, leaving long stretches of
time to be filled with duelling and thunderbolts. Meanwhile Baruchel must
undergo the sorcerer's rite of passage while trying to maintain a love life and
keep his magical affairs under wraps.
Cage adds
another hairstyle to his ever-growing repertoire while giving a solid turn as
the nimble wizard. His performance is livelier than what he usually delivers
for paint-by-number blockbusters. On the other hand, Baruchel bogs the film
down with a true, unlikely-hero performance. It succeeds in illustrating his incompetence to such a point; it is unfathomable
that he can manage the transformation from protégé to master.
The Sorcerer's Apprentice is fairly enjoyable, providing a
good dose of both action and light-hearted comedy with flawless computer
imagery. It doesn't offer a fresh story, but if you want to take a familiar
ride on the chairs of your favourite multiplex, this will get the job done.