Toy Story 3: These Toys Are Not Just For Boys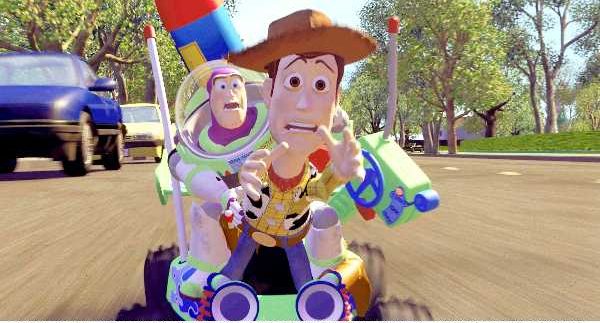 With summer movie season in
full throttle, there are no clear standout film hits so far. Toy Story 3 comes as a breath of fresh
air after a string of half-hearted summer affairs. Make no mistake; Pixar Films
have earned their place in the cinematic canon, and their pictures are not just
for kids; it's for anyone capable of emotion. Toy Story 3 is a mature film that covers the human spectrum in a totality
that very few films come close to.
Fifteen years after the
first Toy Story, the inanimate toys
are beloved by both adults and children alike. Time has defiantly left its mark
on their plastic exterior, but unlike humans, their souls are left untainted.
Woody (Hanks) and
Buzz Lightyear (Allen)
still care about nothing but their keeper Andy. However, Andy can't play with
his toys forever. Now a grownup heading to collage, Andy is about to leave his
toys behind. This simple set-up opens the gates to universal themes about
moving on, closure, and most importantly, acceptance. And while the toys may
never fully understand or be capable of grasping these issues, the film knows
exactly where the heart of the matter is.
Once again, the toys get
separated, again it's up to them to face reality and reunite, and again they
must save the day. Although the story visits familiar territory and rehashes
some old plot devices; it's never to a fault. Fragile and tiny, these moulds of
escapism get caught way over their heads in dire physical and emotional situations.

Toy Story 3 has some
of the most gurgling action scenes of this summer preceded by clockwork
intricate plotting. The toys end up in a day-care facility that resembles a
maximum-security prison. To free themselves from its shackles, they have to
execute a plan that'll give The Great
Escape a run for its money. Toy Story
3 produces some big laughs as a result of the great characterisation, as
well as the nods to its previous films and pop culture references. Unlike
lesser animations, the film never springs for cheap laughs.
The animation is more
rustic, which might be the only miscalculated move on Pixar's side. The first
two Toy Stories created a world made
entirely out of plastic, so shiny and colourful that it ended up working to the
film's favour. In the third round, screened in 3D, the toys still look the
same, but their surrounding have received a realistic facelift. It's not that
much of an improvement, but it does take a little away from the film's charm.
Toy Story 3 has not necessarily
raised the bar higher for Pixar, but it's still a continuation of their long
tradition– a touching, entertaining and immensely engaging film that celebrates
the human experience.