Wall Street 2: Money Never Sleeps: Financial Drama Runs Dry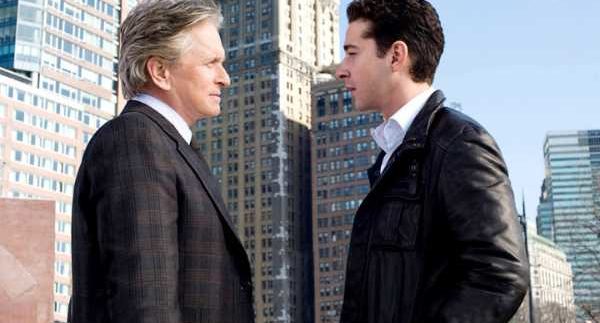 'Greed is Good,' said Gordon
Gekko (Douglas) in 1987's Wall
Street; a catchphrase that resonated with generations of business students afterwards.
The original Wall Street was intended
as a cautionary tale against greed, but the frantic energy and unlimited hunger
of both its villain Gekko and Charlie Sheen overshadowed the moral hazard of
their actions. More than twenty years later, the sequel– dubbed Money Never Sleeps revisits the
characters and re-examines the US
financial system after the 2008 financial crisis.
At the centre of the film is
another ambitious young man, Jake Moore (LaBeouf), who works at a banking
institution that takes a stock market dive following rumours about its
financial instability. The institution closes shop, leaving Moore jobless and in debt. The news couldn't
come at a worse time; Moore
is just about to propose to his girlfriend Winnie (Mulligan), Gekko's
estranged daughter. Moore
approaches Gekko to try to reunite the father and daughter, whereupon he
succumbs to Gekko's charm and the two begin a mentor-protégé relationship.
Bretton James (Brolin)
heads another investment institution, one with shady practices. Bretton senses that
leaving Moore
to dig up dirt on his firm could be potentially dangerous; so he opts for
recruiting the young broker instead. So Moore
works from the inside with Gekko's guidance, trying to uncover the corruption
in Bretton's institution.
The Wall Street sequel lacks the urgency of the original. It's a much
better looking film with stellar performances by the cast members, but the
film's moral ambiguity and convoluted plot get tiresome towards the end.
Mulligan's character is hardly ever seen onscreen without crying and it's hard
to pinpoint the reasons for her disarray; which can also be said for the film. Wall Street throws too many conflicting
notions around all at once, leaving the film feeling unclear about what it
wants to say.
For those not familiar with
the financial system or the house-mortgage crisis, keeping up withWall Street is harder than trying to memorise
a speeding news ticker.
However,Wall Street is as much a family drama as it is a dramatisation of
the banking system; and the film paints with strokes that are broad enough for
viewers to grasp what's going on.
This
is the best film that Oliver
Stone has made in a while. And while it won't have the same effect on ambitious
young entrepreneurs as its predecessor did, it's still a gripping drama
that might offer some explanation for the recent economic crisis.