We Bought a Zoo: Incredibly Heart-warming Family Film
Colin Ford

Maggie Elizabeth Jones

...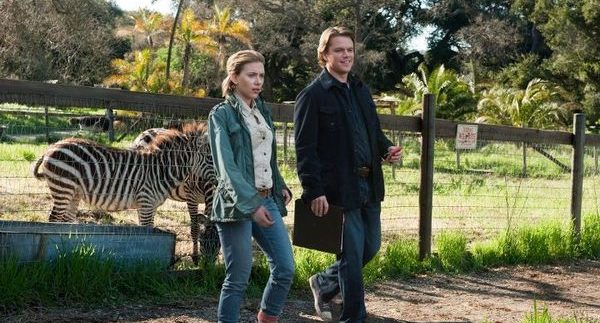 Still
reeling from the loss of his wife, Benjamin Mee (Damon), along with his kids seven-year
old Rosie (Jones) and fourteen-year old Dylan (Ford), relocates to a new house
in the country that comes with a rundown zoo attached to it. Desperate to give
his kids a new experience, Benjamin throws everything he has into bringing the
zoo back to its former glory so it can pass the upcoming inspection and open in
the summer.
Damon
is incredible. He perfects the whole father role and the connection he has with
his kids is very genuine; be it with the absolutely adorable Rosie, who he just
wants to make happy; or with the struggling Dylan, who's feeling abandoned. The
cast is well rounded with some great supporting actors such as Scarlett
Johansson, who plays the head zookeeper; Elle Fanning who plays the
zookeeper's cousin that has a crush on Dylan; Patrick Fugit, one of the zoo
employees; and Thomas Haden-Church, as Benjamin's sarcastic brother.
On
paper the film sounds absolutely precious and that feeling is only solidified
when we are introduced to the animals; which include a depressed bear, a dying
tiger and a lion named Solomon. The film is deceptively deep, at least
emotionally, because as far as the plot goes it's quite generic. The whole zoo environment
is just a way of forcing the characters together because at its core, this is
really a film about relationships; whether it's between father and child,
siblings or a romantic one. The story is simply about a man who has to
rediscover himself after his wife dies; he has to be there for his kids when
what he desperately needs is for someone to be there for him. It spans a full
range of emotions from unabashed joy to outright sobbing; but in the end, it'll
leave you with a huge smile splashed across your face – unless of course you're
the cynical type, in which case this film would be excruciating to sit through.

The
film does occasionally veer towards the sappy, especially whenever Rosie is on
screen – she is cuteness personified – but the film is so earnest that it
doesn't matter. Besides, the thoroughly fantastic soundtrack and score – more
often than not – temper everything. Sigur Rós
frontman Jónsi
scores this film in addition to using a few tracks by various artists such as
Cat Stevens, Tom Petty, Neil Young and Bob Dylan.
We Bought a Zoo has been carefully
engineered to tug at your heartstrings and unclog your tear ducts. It's
completely old fashioned and wears its heart proudly on its sleeve, but that
doesn't mean it isn't also thoroughly delightful. In fact, it frequently
reaches Disney levels of happiness and heart, while maintaining its backbone.
Ultimately, it's a perfect family film.