Zaheimer: The Apples Fell Far From the Tree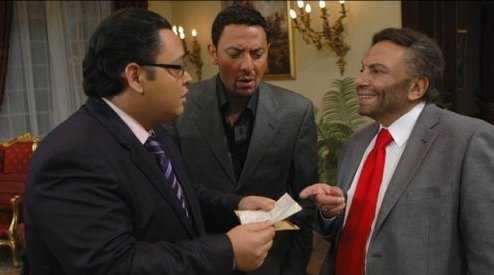 In Zaheimer, Adel Imam plays Mahmoud
Shoeib, a hazy businessman who wakes up to complete strangers in his house. After
he spends the whole day running around the house in a frenzied panic, he
collapses in the living room's armchair; finally accepting the sad truth: he suffers
from Alzheimer's. It takes the withering Imam half of the film to come to this
conclusion, and by that point not only does
Zaheimer run out of steam; it also takes the most absurd turn.
As far as story threads go, Zaheimer
doesn't have any. The first half of the film is a series of anecdotes about
memory loss (referencing– of all films– Memento),
and the second half unfolds like a father-and-son fable. These two halves are
stitched together with a reunion of old friends, where Mahmoud sits with his
old friend (Saleh) to wistfully reminisce about the good old days. It's only
here that Zaheimer rings truthful: it's
nostalgia that evokes this strong emotional reaction.
However, Zaheimer is too
calculated and toothless to dig deeper into these men's psyche, and instead of exploring
their genuine fear of aging; the film bounces back to the hypothetical and less
disconcerting path that it started out on.
Still, watching Mahmoud confront his own mortality is a touching
experience; even if it's on the surface. Imam is more of a national icon whose
stardom grew parallel to prospering post-war Egypt. He became a symbol of his
era with all its ups and downs, and his aging face encompasses the modern
Egyptian experience thoroughly. Perhaps this is why seeing him teary-eyed after
his encounter with his old friend has a visceral and profound effect. It steps
out of the film's context and becomes an allegory for something bigger and more
poignant.
There is an insular quality (hopefully by design) underlying Zaheimer, but the film is successful in what it avoids rather than
what it offers. It lacks crass, overtly sexual undertones and juxtaposition of
action; making the film a tonally consistent and family-friendly affair.
Zaheimer treats itself with
lethal laziness, killing any chanceof it connecting on any level. When we're
first introduced to Imam's sons (Abdel Wahab, Rizk), we first see Abdel Wahab
stressed on the phone, alarmed that US stocks have dropped twenty
points, and that's as specific and precise as the film is ever going to be; comically
broad, self-important and confusing its own shortcomings with profoundness.