Fairmont Day Use: Understated Luxury for a Day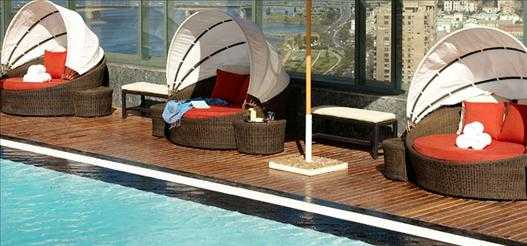 Seeing as how
it's quickly heating up in Cairo,
we are on the search for swimming pools to satisfy all of your swimming and lounging
needs. Fairmont Nile City's
location on the Corniche not only boasts convenience but upscale amenities and
a seriously gorgeous view.
For a day by the
pool, you also gain the use of a room to freshen up in; so make sure to pack a
bag and take full advantage of the luxury accommodation. After dropping your
bags in the room, make sure to grab the complimentary water they've graciously
laid out for you; because a bottle on the sky level will run you 80LE.
Located on the 25th floor, the hotel's pool couldn't possibly get any better. With friendly
staff ready to help you at any given moment, rest assured that you won't have a
worry in the world for the rest of your lazy afternoon.
Take a moment,
notice where you're at, and you'll be reminded of how insanely huge this city
is. The view from Fairmont's
poolside is enough to leave you breathless.
The terrace's
contemporary design is sprawling with washed out wooden floorboards. Various
areas are available, including some with latticework shade if the powerful rays
are too much.
Cosy lounge
chairs are waiting for you poolside and non-poolside alike. Couch loungers are
also sporadically placed around, if you don't mind cuddling up near the rest of
your company. Towels are automatically brought for your service; and don't
hesitate to ask for more.
While the jacuzzi
is nestled atop the pool's edge; the pool itself is perfect for a few laps or for
sunbathing on the steps. Surrounded by delicate tiles of blue and brown hues,
the pool's negative-edged design allows you to engage with the moment like
never before and the water is refreshingly cool. A smaller pool is also perched
upon the terrace's ledge; providing a spot for privacy and shaded water.
After a day
lounging poolside and back in the room, more relaxation is in store. Enjoy a
light nap under the pristine white sheets of one of the most comfortable beds that
your body will ever meet.
The sleek,
minimalist approach to the bathroom is more like an urban spa; true to style.
With sliding shutters looking out into the room, the oversized bathtub and rain
shower area is accompanied with London-based Miller Harris products for all of
your bathing needs.
From Fairmont's simplistic yet
luxurious approach to their keen sense for detail, your day use experience will
leave you feeling pampered and refreshed from beginning to end. For 600LE, the
day use includes a room and pool use for two.