Gold's Gym Elite: Pricey Fitness Haven in Katameya Heights
Katameya Heights Compound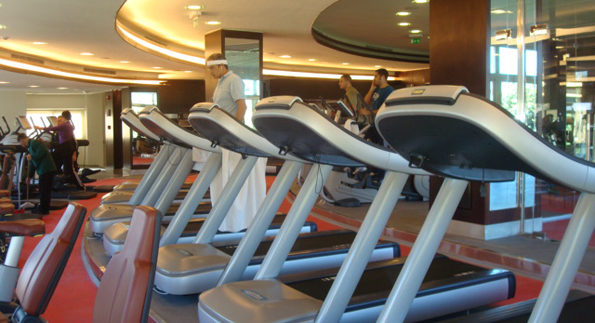 The majority of gyms in Cairo often offer the same, standard facilities in similar settings. The Gold's chain, however, are looking to elevate the fitness experience, with the recent opening of Gold's Gym Elite, aimed at providing a luxurious service to high-paying customers.
Set in the beautiful grounds of the Katameya Heights compound, the gym is surrounded by immaculately landscaped gardens and outdoor sport facilities. Flooded with natural light and calming views, the facility is spread over three floors for maximum workout space. Access to the averagely-sized, outdoor swimming pool and tanning area is permitted to members, whereas the tennis courts and golf course in view are separately owned by the Kattameya Heights health club.
On the ground floor, welcoming staff and trainers greet patrons at the reception desk before ushering them towards the changing rooms. Tidy and contemporary, both men and women have access to a private sauna, steam room and jaccuzzi. A large range of massage choices are also available at discounted prices for members. Towards the back of the women's locker room is a spacious, well-equipped, ladies only workout area, which is partially underground, therefore not afforded the wonderful views that the mixed area benefits from.
The next two floors above are split into a vast weight lifting area and an equally as spacious cardio room. The state-of –the-art equipment is organised into rows, facing out towards the full-length windows and overhead TV screens. Separate, glass-fronted rooms are partitioned for a full range of popular spinning, aerobics and other fitness classes; unusually, Aikido martial art classes are also offered (800LE-1650LE/8 sessions). There is also an area with machines conveniently dedicated to full body warm-ups, a healthy juice bar and a well-stocked supplements shop.
Memberships will set you back 1500LE for just one month, 3000LE for three months, 5000LE for six, up to 7500LE for a year's gold membership, or 10,000LE for platinum. Family memberships and morning memberships come somewhere in between. With each different type, a range of extras is offered, including at least one personal training session; the more you pay, the more benefits you receive.
At the time of our visit, a year-long membership afforded four personal training sessions, two nutrition sessions with an on-site nutritionist, one physiotherapy consultation, a quarterly fitness assessment, two weeks' worth of guest passes, two months freezing and fourteen visits to Gold's Gyms abroad. Due to the expense, the gym rarely gets crowded, allowing for relaxing work-outs.
Gold's Gym Elite is much more than just a gym. Set in gorgeous surroundings with impeccable customer service, it's more of a lifestyle choice; a place to reach those fitness goals, socialise and unwind.