Fiona Apple: The Idler Wheel…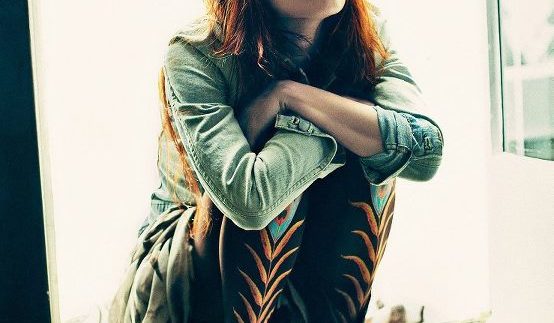 You have to hand it to the thirty-four year old, quirky-as-quirky-can-be
New York native. It's been seven years since the release of her last album, Extraordinary Machine. Since then, she's
managed to create a twenty-three-word album title that actually has a ring to
it. Impressive, Fiona; we've missed you and your offbeat whimsies.
Selling almost 3 million copies nearly sixteen years ago, Apple's debut,
Tidal, was greeted with open arms. Bets
hedged that in the summer of '96, nearly every young woman listening to that album,
at one point found herself alone in her room, wishing she too, could be a bad girl – enthralled with the pop
misfit's media scandal of a music video for Criminal.
Men, insomnia, relationships, sex, hate, love, emotions; her subjects
came in the form of dark tales with minor chords and out-of-place compositions
– opening the doors for the pop scene to briefly experience music in a new
light.
It didn't take long before Fiona was labelled as a bit bananas though;
between her tendency to flail about on stage and her numerous public
statements, slamming the music industry and society at large. But then again,
isn't that why we liked her in the first place? It was her beautifully brassy
attempt to create honest music, and speak honestly about that music, that left
us feeling so weak at the knees.
We can say today that it still doe; Apple's go-with-the-flow approach to
making music, hiatus a plenty, has its own rewards. And, deep breath, The Idler Wheel Is Wiser Than the Driver of
a Screw and Whipping Cords Will Serve You More Than Ropes Will Ever Do speaks
highly of that. The album includes 10 new tracks and a five-track bonus set, live
from the SXSW festival earlier this year.
The music still contains that emotion-driven nature, which isn't always
pretty; it is abrupt and intrepid in true Fiona style. Somewhere along the line though, a refined
voice has come in. Vulnerable yet controlled. Opening the album, 'Every Single Night's' cheery percussion
and playful rhythm bounces along and scoops you in and a greater poet is
heard: "Every single night, I endure the
flight/Of little wings of white-flamed, butterflies in my brain/These ideas of
mine, percolate the mind/Trickle down the spine, swarm the belly, swelling to a
blaze".
As the album goes on, the piano livens up as her wails
grow larger and shrink back down again. 'Hot
Knife' ends the album with vocals and drums alone being looped, one over the
other, as she riffs about the excitement of romance – all while being jazzy and
smooth. It is indeed, hot – even if she is singing about butter.