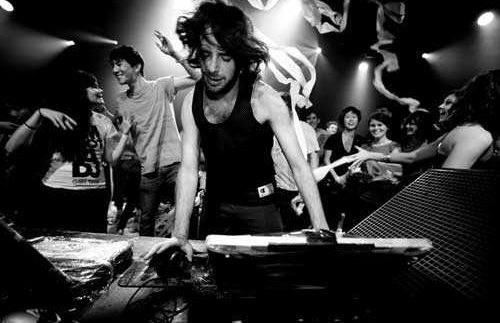 Legality,
fair use and a high probability of lawsuits: this entire racket has this new
artist in the New York Times and
other publications for his unauthorised sampling of numerous well-known
artists. In 2007, DJ Greg Gillis (otherwise known as Girl Talk) was in a
documentary that focused on our copyrighting culture; so his agenda isn't
missing. That being said, does an artist's morality really come into question when
you throw on a new album anyway?
When it
comes to maximising sound and creating powerful mash-ups unlike any other
digital sampler in the modern age, Girl Talk knows where it's at. The artist
has produced five LPs, including 2008's Feed
the Animals, which arguably gave him his career break as a mainstream
artist.
If Feed the Animals provided Gillis with
that backbone, All Day is here to
only add a few layers of meat to the vertebrae. With more eclectic mash-ups
than before, Gillis has become an all-out maximalist in a wide range of genres;
his album is like a little glossary of pop history. Moreover, his addition of
classic rock and r&b adds a whole new groove to his platform.
With a
confusing mash-up of the sunny tune 'Mr. Blue Sky' by the loveable Electric
Light Orchestra, Wale's 'Pretty Girls' and the funky addition of Beck's
'Loser', Gillis uses 'Let It Out' to take you on an energetic, groovy trip that
defuses slowly throughout the track. After all six minutes and twenty nine seconds
of it, it's recommended to do exactly what the title says.
Following
that, 'That's Right' switches gears to 80s synth-pop, spilling out some cheese that is
conjured up with Rihanna's bad-to-the-bone façade and Beyoncé's anthem for
single ladies. Halfway through the track, a little redemption surfaces through
the quick upbeats and grand mixture of simple yet detailed looping that Gillis
is known for.
'Triple
Double' is just one example of his ability to cover decades of noise;
showcasing his versatility and appreciation for a wide range of genres. The
track will take you by surprise with its use of indie rockers Phoenix, and it
will keep you moving till the end. For a mix that attempts to simultaneously
sample a little Ludacris, the Cranberries and Rolling Stones (just to list a
few), it runs surprisingly smooth with steady lyrics and an underlying jovial
tone.
Throw All Day
on at a party and your guests will be satisfied. However,
when it comes to a listening session, the album seems more like a catch-22.
While Gillis's original concept was for All
Day to be listened to in one go, attempting to ingest the entire album at
once is anything but enjoyable. After listening to a few tracks in one setting,
the album begins to feel more like a small space that is maximised with empty
sound.
Still, All Day is perky, fresh and tightly produced, providing plenty of
funk to go around. Listening track-by-track might be difficult, but it will be
pleasantly surprising if you take a chunk at a time as not to miss the
transitions and constant vigour.