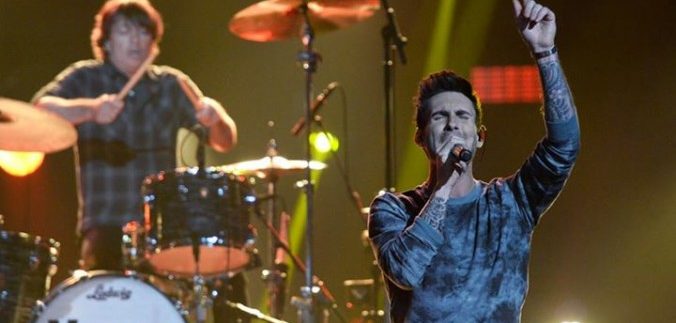 Perennial chart-toppers and masterminds behind hit singles like Moves like Jagger, Payphone and One More Night, Maroon 5, are back after a two year hiatus – and expectations are high.
Maps, which was released earlier this years as a single, opens the bands fifth studio album, V, with an upbeat vibe and Levine's and quite clearly auto-tuned, yet amiable all the same, vocals. The song, just like most of the other songs on the album, is, in classic Maroon 5 fashion; it's extremely catchy and will almost inevitabely turn into a long-ter, guilty pleasure.
The following track, 'Animals', is somewhat inconspicuous but for Levine's peculiur howling – literally like an animal – towards the end. Things taka a romantic turn with 'It Was Always You', though the mixture of fast and slow beats and the fact that it largely manages to stay away from clichéd sentiments and cheesy lyrics make it one of the album's standout tracks.
V then momentarily calms down with the soulful 'Unkiss Me' and then speeds up again with 70's-inpired chorus of 'Sugar'. Hands-in-the-air, festival-appropriate ballad, 'Leaving California', follows and puts Levine's high-pitched vocals on full display.
It wouldn't be a Maroon 5 album without a song about a cheating significant other and 'In Your Pocket' satisfies what has almost become the band's trademark subject of choice.
From there on, the album takes a turn for the worse, down the boring bubble-gum-pop lane. With themes like demanding a lover's forgiveness if he ever does her wrong, crooning about getting back to a lover soon and urging a girl to leave other guys and find her way to him in 'Feelings'.
The album, thankfully, ends on a more musically mature note with a touching duet with Gwen Stefani. Piano notes dominate the beat of 'My Heart is Open' as Levine and Stefani's vocals complement each other perfectly.
Ultimately, V is quite indistinguishable from the band's fourth release, Overexposed. It's an album that pushes the band further away from the intangible essence that won them so many fans back in 2002 with the release of debut album, Songs About Jane, towards the oblivion of the teen-spirited music they have produce as of late.