Minus the Bear: Infinity Overhead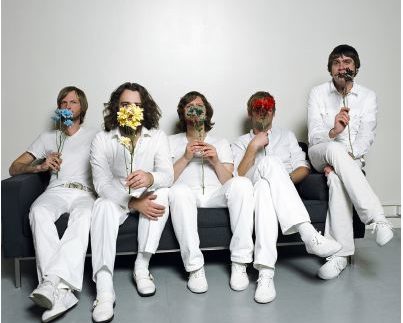 American four-piece band, Minus the Bear, have been around for over a decade. Hailing from Seattle, Washington, the quartet has little to do with grunge, but craft their musical endeavours in sophisticated time signatures around guitar tapping and electronics.
Infinity Overhead is their fifth album, and the overall adage for it seems to be 'If it ain't broke, don't fix it'. Don't be fooled by the first 20 seconds of album opener 'Steel And Blood': the opening riff might sound as if you've just put on a new Metallica album, but then a bright organ and vocalist Jake Snider's light voice kick in and the band takes you into the all familiar land of intelligent and slightly progressive rock.
The quality of Minus the Bear's output has been of a consistently high level since their second album Menos El Oso, which was by no coincidence the first of their albums to register on the music charts. As commendable as that is, it also makes their music a tad predictable and, dare we say, boring. The quartet has by now mastered the art of writing a song dressed in nimble guitars with a slight jazzy feel to it. So maybe it's time to expand the horizon and change the recipe?
The ten new songs on Infinity Overhead are hard to distinguish from the dozen on predecessor Omni, or even their ten siblings on 2007's Planet of Ice. Those were decent albums, and so is this. Snider's voice and the way his vocals are harmonised gives the songs of Minus the Bear a Beach Boys-esque summer vibe. It makes their catalogue the ideal backdrop for a relaxing evening kicking back on your balcony or roof terrace, enjoying the final throes of summer in Cairo. It makes for carefree, safe and not a particularly adventurous listening.
Infinity Overhead lacks songs that really stand out. 'Toska' peddles along with a cheerful organ, while 'Heaven is a Ghost Town' hinges on a dreamy guitar riff, but overall the album misses tracks which feature hooks that have turned older songs like 'The Fix' and 'Knights' into crowd favourites.
Because there is nothing inherently wrong with Infinity Overhead, we'll forgive Minus the Bear the stagnation of their musical progress this time around, but for their next effort we're going to want to see some different spices in the kitchen.