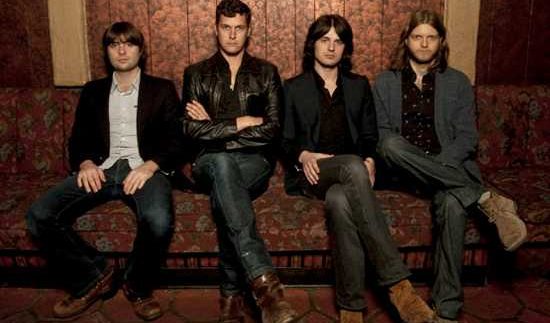 If the Beatles
were around in the 80s, Rooney is what they'd sound like. The neo-mop-tops, named after Principal
Rooney from the movie Ferris Beuller's
Day Off, shot to fame after they featured on the TV show The OC. Lead vocalist Robert Schwartzman, brother of actor Jason Schwartzman
(who's own band Phantom Planet wrote The
OC's theme song), is no stranger to acting himself, and like his brother,
worked with Sophia Coppola on The Virgin
Suicides, and starred as Michael Moscovitz in The Princess Diaries. How's
that for a bit of trivia?
Their music is
mostly happy, upbeat, California
rock that can be relied on for some classic lip-syncing sessions and rounds of
air guitar. This, their third full
length studio album, is no different, and features the same sounds and vocals
loyal listeners have grown accustomed to. Their first single, 'I Can't Get Enough', is a cocktail of synthesized
pop that fits the mould of catchy repetitive choruses perfectly.
'Holdin' On' is
another peppy, upbeat tune with catchy chorus and blending harmonies – probably
where Eureka comes closest to sounding like the band's first release. 'Into the Blue' meanwhile, is decidedly more
melancholy and quietly depressing. 'The
Hunch' sounds like a 90s television sitcom theme song, while the idealism on
'You're What I'm Looking for' can't help but be endearing, even if the lyrics
are in the much clichéd 'took you for granted, friend-to-lover' theme.
'Not in My House'
is a heavy, Beatles-later-years song with added funk and soul beats. A few songs take this direction but it's not
particularly interesting. The album is
solid overall, but besides this heavier tone, there's nothing particularly new,
creative or revolutionary. Considering
that music has moved on since 2003, one would think Rooney would evolve a
little. There's nothing wrong with
sticking to what you do best… unfortunately, it's just a little boring. That being said, they have matured beyond
singing about being jerks to girls at parties, proclaiming instead 'Don't look
at me, I'm a tragedy… Well, I'm getting old, I'm getting old.'