The Boy Least Likely To: The Law of the Playground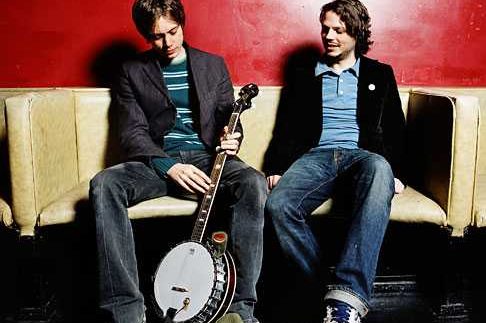 If you're
bored of what's on the airwaves lately and want to hear something fresh, The
Boy Least Likely To may just be what you're looking for. Not exactly
mainstream, the British duo's specialty is childlike folk-pop that features
sounds one would more likely hear in a nursery than on a concert stage.
Their second
album, The Law of the Playground is
much of the same child-inspired fare for grownups, with songs that sound like
the soundtrack to a carnival or country fair. Their soft whispering vocals make for some easy listening, and uplifting
lyrics such as 'When life gives me lemons/ I make lemonade', offer up
simplistic optimism.
One of
Rolling Stone's top 10 bands of 2006, The Boy Least Likely To once opened for
James Blunt on his tour, and audiences were instantly won over by their
colourful, striped Where's Waldo
sweaters and scarves, and wood instruments we hadn't seen since the 2nd Grade. Apart from their guitarist being slightly
tipsy, they seem set to feature at your niece's next birthday party. We downloaded their album immediately and sat
amused by apple wagons and sensitive souls (check out their first album The Best Party Ever to see what we're
talking about.)
Granted,
their second album is filled with violin and banjos, and sounds sleepier and
less interesting than their first, but when craving a warm hug on a cold day, The
Boy Least Likely To's ensemble of overgrown eight-year-olds stuck in the 80s are
the ones to snuggle up to.