Alchemy: New Nightspot in Dokki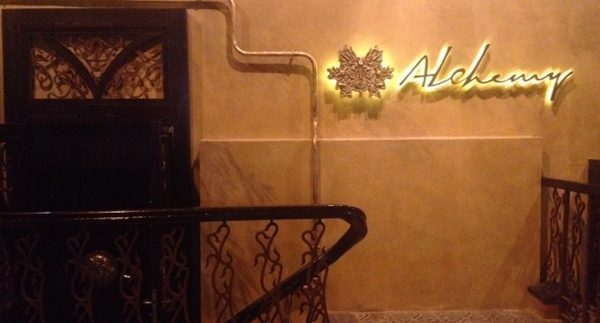 During their exclusive soft opening week, Cairo 360 was lucky enough to be invited to visit Alchemy – a new nightspot from the guys behind Cairo Jazz Club in Dokki which seemed to be creating quite a commotion amongst its clientelle.
Alchemy derives its name from the medieval scientific practice of turning standard metals into precious ones. Alchemists claim to differ from modern scientists as their work is influenced by mythological and spiritual elements and they have a good understanding of the four elements of nature – earth, air, wind and fire. Such a mystical theme is reflected in every inch of this place, creating a unique, unusual as well as fashionable venue.
On a quiet square, off the busy Mohy El Din Abu El Ezz Street, a mysterious, dark, basement door conceals the loud buzz of excitement from the crowded bar beyond it. The gold walls contrasted with deep reds and blacks exudes a majestic aura and the large mirrors and gargoyle type masks adorning the walls continued to add to the otherworldly atmosphere.
We swiftly headed to the monumental, fully stocked bar and picked up one of the thick, maroon and gold menus. The pages were printed on textured, organic paper and the writing was accompanied by detailed, supernatural illustrations. The first page was dedicated to an introduction, comparing the chef's and barmen to alchemists as they are able to transform standard, raw materials into 'gastronomical gold'.
Flickering through the beverages on offer, we noted the vast selection of alcohol available – the spirits in particular, which were largely imported. There was also a pleasing and extensive selection of local wines – red, white and rosé – served by glass, a carafe or as a bottle.
To start with we ordered two B52 'potions' (58LE each); a shot-sized mixture of Kahlua, Baileys and Cointreau which were powerful, to say the least. We also requested a chilled glass of Omar Khayyam white wine (65LE).
With the intention of ordering food, we decided to first order a couple of cocktails; one fruity Cinderella (30LE) and a slightly bitter Virgin Mary (30LE). As their hot drink section is almost non-existent, Alchemy is not the place to haunt if you're hoping for a cosy cup of tea – not that we're complaining.
The food menu is full of inventive, avant garde dishes with an assembly of 'brews' (soups), 'sprightly greens' (salads), 'virtuous temptations' (small bites), 'golden fantasies' (mains) and 'heavenly sins' (desserts).
We requested vols-au-vent (30LE) to start, followed by veal chops (140LE) and stuffed chicken breast (75LE). Although a little tepid, the vols-au-vent were superb; crispy, soft and smooth in all the right places. The chicken also arrived slightly cold, but the stuffing exploded with a medley of flavours. This dish was served with a fresh, spicy salad which was indeed, too spicy to consume.
The veal chops didn't materialise for a long time, either because they were forgotten about or because of the kitchen was overwhelmed with orders. However, when the dish did arrive, we were impressed by the colossal, tender veal chop and the tasty dressing but dismayed that its bed of chunky chips was stone cold.
Alchemy is an original, incomparable and bewitching venue which is unquestionably worth visiting. This places encourages a young, vibrant and sophisticated crowd and would be a great place to socialise at the weekends.