Buddha Bar: Music for Meditation
Sofitel El Gezirah Cairo Hotel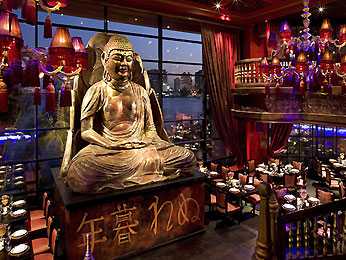 Buddha Bar has quite the reputation as a world class place to bliss out and enjoy some international chill out culture. Its Sofitel Gezira location has a spectacular view of the city where you can enjoy yourself surrounded by Asiatic glitz. The centrepiece of the club is, of course, its signature giant Buddha statue, located on the club's lower level.

The upper level balcony makes the space reminiscent of an opera theatre, although the music gives off an entirely different vibe. Notorious for its deep synthetic remixes of everything from Europop to catchy Arabic tunes, Buddha Bar generates a musical buzz. The place is aglow with purple and blue lights, the ceiling drips with gaudy chandeliers, and waiters pad by on silent feet taking orders for signature cocktails and sushi.

The club's crowd is a mix of out-of-towners and upper crusters who can be counted on to be as shiny and decorated as the venue itself.

While basking in electro-beats and mood lighting makes for an extravagant and fantastical night out, the atmosphere can be a little too chill. You might be left wondering what all the buzz is about if you're expecting too much, especially if you factor in the required 250LE minimum charge, which is a challenge to reach if you're not ordering drinks. So be adventurous and get out there – chilled out might be the trend of the Buddha Bar evening, but to truly enjoy this experience you're going to have to be prepared to bring some life to the party.

The Sharm El Sheikh venue, Little Buddha, tends to bring in the die-hard party crowd, unlike the Cairo one where the scene is a bit more sophisticated, suited for serious conversation as much as dancing. However, this is possibly one of the top Buddha Bar's worldwide so if you're willing to splash out on someone special, then you're bound to feel it was all worth it in the end – even if it leaves a rather large hole in your wallet.