El Horreya Café and Bar: Cairo's Quintessential Baladi Bar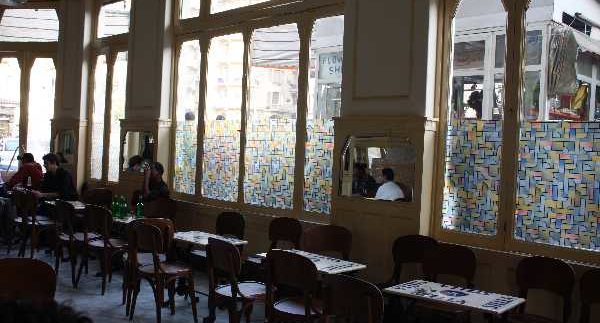 When it comes to nightlife in downtown Cairo, it's all about
baladi bars. The infamous act of baladi bar hopping is common amongst locals
with side-streets, alleyways and rooftops bursting with curious watering holes.
No baladi bar crawl would be complete however without a stop at El Horreya
Café. For decades, El Horreya has been like a living room where leftist
intellectuals, artists, writers, expats and locals alike gather to socialise.
El Horreya is a huge cafeteria-like café and bar that
offers tea, coffee and cold beer. It opens in the early afternoon and closes at
2AM. During the day, locals can be seen sipping their coffees while playing chess
and other board games that are available. It's also a popular spot for a mid-afternoon
beer-with-termis gathering. On week nights, it can get quite crowded, and let's
just say that there's nowhere in Downtown Cairo
like El Horreya Café on a Thursday evening.
For as long as most regulars can remember, El Horreya's
charm was in its gritty and dilapidated décor. However, El Horreya Café recently
underwent major renovation. Gone are the days of cigarette-butted floors,
broken tables and walls that haven't been painted since Abdel Nasser's time. With
a fresh coat of paint, new chairs, tables and mirrors, El Horreya is a new
café! The old staff is still there, but now all wearing matching polo shirts
with an emblazed Heineken logos.
Thankfully, it's still the same popular hangout where
everyone knows your name, and you can still get a Stella for 9.75LE. El Horreya
is a busy place, though; so don't be insulted if you're ignored by the staff on
busy nights and you need to ask twice for a beer.
A bottle of Stella is 9.75LE. Heineken, Sakara Gold
and Meister Max cost between 11LE to 12LE, while an ID Double Edge is 16LE. Tea
and coffee never surpass 1LE to 2LE.