Sangria: Nile-side Soiree
Inside Al Shagara Casino, In Front Of Conrad Hotel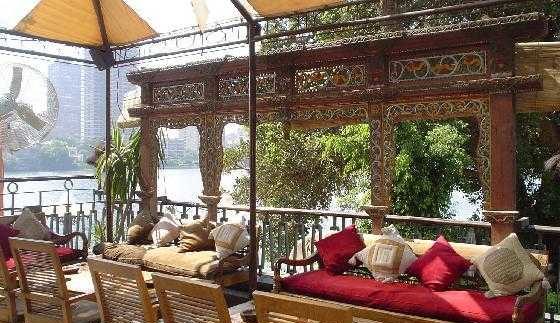 Sangria is meant to be the quieter, loungier half of Casino El Shagara, made up of the Absolute/Sangria duo. With seasonal garden dining and open-air terrace seating available, Sangria pushes for a Far Eastern feel; so it's anyone's guess why the owners chose to name the place after a popular Spanish drink.
Low-key dining is an option, but things heat up on Thursday nights and most weekends as the joint turns into an impromptu dance club with the DJ spinning his tracks and taking requests. As with most nightspots in the city, the food is not the main focus but is ordered in large quantities to help balance out the bar orders. The grilled entrées are hearty, but the desserts are to be avoided at all costs. Service is unpredictable, ranging from overly attentive to barely there.
Of course, Sangria has its diversity: the balcony boasts a lovely Nile view where you can enjoy your shisha, and it's a family friendly destination for afternoon lunches throughout the week and especially on weekends. Come night time, the place turns into one of unabashed revelry. The space feels more suited for dining than dancing; the lack of a dance floor means the late nights can become a bit chaotic as patrons resort to dancing between tables.
One thing worth mentioning is the daytime minimum charge, which bizarrely does not include any drinks; so you must order food even if you would prefer to party. Booking for large parties will guarantee some attention from the waiters, especially when it's time to order the cheque. Music selection is eclectic, ranging from Arabic pop of—think Amr Diab and Miriam Fares hits—to retro disco beats.
Rumours are circulating that this somewhat bygone but still popular night spot is about to get a facelift by one of our infamous party gurus. If this takeover occurs, we'll have to see what kind of magic gets worked on the Nile-side casino.