Sidi Omar: Sohour at the Grand Nile Tower's Ramadan Tent
Cornich El-Nil ,Roda Island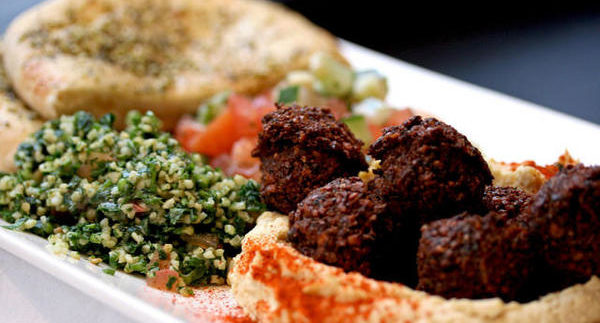 After
a long and tiring day of fasting, Cairo's Ramadan nightlife is something to
look forward to, bringing excitement to many. After filling up our tummies and re-energizing
our bodies, we couldn't wait to rush to the streets to enjoy the beautiful
spirit of the holy month at night.
Two
years since our last visit, we headed over once again to the Sidi Omar tent in
Grand Nile Hotel – which used to be the Grand Hyatt Hotel and where the tent
was originally named Seh Omar.
The
place is big; it's an open air with seating around a sizable pool. An
oriental band was set on a stage across the pool and played old Egyptian classics throughout the night; a definite highlight of Sidi Omar. On the other hand, a flaw
had to be the modern purple and silver couches that were lacking in quality.
Choosing
from the 'Tasali Ramadan' menu, we had hummus el sham (20LE) that came soaked
in a hot and spicy tomato juice and was perfected when a bit of lemon was added.
Other items on the menu include foul nabet and termes (20LE each), as well as laban
rayeb (18LE) that was not available at the time of our visit.
From
the hot and cold mezza options we had the maqaniq with parsley and pomegranate
syrup (45LE); while there was absolutely no sign of pomegranate, the sausages were
well-cooked and spiced in a thick, fresh tomato sauce. Other available options were
hummus, labna, white cheese, fattoush (20LE each), vine leaves (25LE), chicken
liver (45LE), and Egyptian mombar (45LE).
We ordered
the Sidi Omar sohour (95LE) which the waiter advised would be enough for two people.
It included hummus, metabil (pickled and garnished_ eggplant, labna, taameya (falafels), kobeiba, sambousak, foul
with olive oil, two yoghurt cups, a choice of omelette and oriental desserts. The
portions were sufficient but no dish stood out. You can also order separate sohour plates such as falafel with tehina (30LE),
plain omelette (30LE) and foul with tomatoes and olive oil (22LE) or with tehina
(25LE).
We
also tried the halloumi cheese wrapped in saj bread (45LE) and found the bread
was freshly baked and the cheese was perfectly salted. Also wrapped in saj
bread was the chicken shawerma (65LE) served with pickles and garlic dip on the
side. The shawerma was hot and flavourful, mixed with tomatoes, garlic and
parsley, but we wouldn't recommend it as a sohour option since it's likely
to make you thirsty.
Aside
from the traditional sohour, regular main dishes are available and include mixed
grills of shish tawouk , kabab and kofta (160LE), roast chicken with khalta
rice (85LE), and grilled jumbo shrimps (250LE).
Last
but not least was the dessert with choices such as Om Aly (25LE), rice pudding
(25LE), mahalabeya with amar el-din(30LE) and fresh fruit slices (45LE) that were
served cold and generously included fresh watermelon, cantaloupe and grapes.
Blame
it on the crowd of costumers or on the stress of last orders before fasting
begins, but the service was unfriendly and the waiters' grumpiness put us off a
bit.