Stage One: Conrad's Modern Edged Night Spot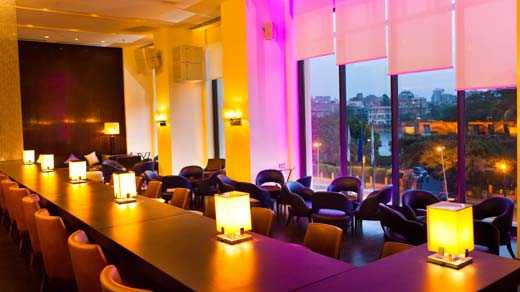 Cairo's
nightspot selection can feel a little limited: either you go all out with the
glitz and glam and pretend that you don't mind blowing wads of cash, or you revel in
the gritty charm of some streetside ahwa or low-key bar.
Located a few floors up in the Conrad Hotel, Stage One is easy to find; just follow the rhythmic beats of the
music. The decor is sleek, with a glass wall that reveals an captivating view
of the Nile, stainless steel bar tops, low
tables and plush couches. The decorator seems to have gone with the tried and
tested modern-edged, minimalist theme.
In spite of its efforts– which include atmospheric
chandeliers and a glass DJ booth – Stage One continues to draw a modest crowd
on most evenings.
Soft mood lighting reflects off decorative crystal
strands. While the music playing throughout the evening was tasteful, the
volume was somewhat jarring for a lounge, with the speakers pumped up to a
volume better suited for a night club or a concert. After much shouted
exchanges and frantic hand gestures, we managed to convince the DJ to take it
down a notch; he was a good sport about it.
Patrons can order from the Stage One bar
menu,which features appetisers of burger and sandwich samplers, or the neighbouring Oak
Grill or Kamala restaurants. The
mini burgers (around 55LE) from the in-house menu are juicy and flavourful;
each of the three small paddies has a gourmet twist of Shitake mushroom, blue
cheese, or caramelised onions, served in soft miniature burger buns. The
accompanying stack of four large fries made for a comically dainty display. Most
of the appetisers range from 50LE to 100LE, and arrive in modest portions.
The steak tenderloin (around 90LE) was served
elegantly with a mushroom garnish and looked appetising, but sadly the quality
of beef was not top-notch, and involved much prolonged chewing.
The chicken satay appetiser (around 50LE) from
Kamala's South Asian menu is packed with mild spices and ginger flavour, while
the spring rolls is served with a tasty sweet chili sauce for dipping, and is hands
down some of the best that this reviewer has tasted in Cairo. Prices for appetisers fall in the range of 50LE
to 150LE, while and main dishes cost between 100LE and 200LE.
Overall, the food was elegant and
tasty, and the layout was pleasing. While Stage One needs a few adjustments to make
it a stand-out addition to the Cairo
scene, we do plan to return for more. Marketing for the Stage One may prove its
biggest downfall; as we've yet to see the crowds pour in – maybe it just needs
a little time.