Aal Khafeef: Light & Breezy Sandwiches in Nasr City
5A El Shark Lel Ta'meen Bldgs.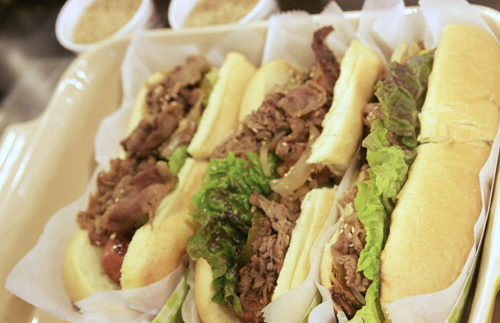 A
relatively new restaurant, only having opened seven or eight months ago, Aal
Khafeef is located in Nasr City on Abbas El Akkad Street next to My Queen. This
area of Abbas El Akkad Street has become increasingly popular with several fast
food restaurants clustered together. All you have to do is park your car and
all the waiters from the different restaurants will rush to your assistance, or
you can choose from one of the tables lined up on the pavement to take a seat.
Either way, you will end up enjoying a warm, tasty meal at an affordable price.

Aal Khafeef, which means light meal, is
true to its name. The menu is full of sandwiches with basic fillings such as
meat, chicken, shrimp, cheese, halawa with cream and jam. There are also salads
and French fries as well as soft drinks if you'd like to make your meal a combo
(7LE).
Sandwiches are available in either two or three
different sizes, with prices beginning at 3LE going up to a maximum of 19LE. In
the end we needed the waiter to decide what would be the best choice; his
answer was the liver 'aal khafeef' sandwich (3LE), where the meat is cooked in
a special way. The potato shawerma (4LE), which has added mozzarella, promised
something unlike anything in Cairo, while another speciality is the grilled sausages
with cheese (5LE). The grilled kofta sandwich was also recommended (8LE).
The liver 'aal khafeef' was cooked with onion
and garlic and tasted delicious, while the potato shawerma with cheese proved
to be a great invention; it's a novel creation and must be tried at least once.
All the sandwiches came in fresh fino
bread, while the meats were noticeably fresh and clean.
Salads and sides are available, including green
salad, tehina and pickles (3LE a box), as well as pickled tomatoes, potatoes
with parsley, eggplant and fried peppers (4LE a box). We tried the pickled
tomatoes and potatoes with parsley, where the former was great but the latter
didn't fare as well.
After the meal you can choose from a mix of
halawa, cream and jam or Nutella with bananas and honey (5LE) for dessert.
There are also more basic sandwiches if
liver and sausages aren't your thing. Aal Khafeef serves hamburgers, shish
tawouk, hot dogs, shawerma, shrimp and cheese sandwiches. You can also get a
kilo of shrimp or brain for 100LE.
Aal Khafeef serves great sandwiches although
service was a little slow. But this doesn't take away from the fact that the
service was also welcoming. It's an ideal
spot to grab a late night meal that is light and cheap.