Andrea: North Coast Grills for the Summer
Km 149, Haciendas Compound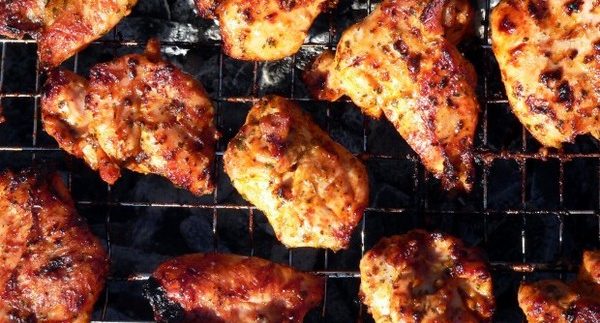 With the original restaurant open in the Marrioteya area of Haram, the owners of Andrea have
always liked to maintain a presence on the North Coast – inside the Haciendas compound near Sidi Abdel Rahman to be precise.
The restaurant, revered by the majority of Egyptians, has been
serving grilled chicken dishes, traditional salads and mezzas for over 20
years. Its staple Egyptian cuisine and rustic décor has always managed to
appeal to a range of tastes – both locals and tourists. Driving up to Haciendas, the entrance to the
restaurant is on the outside of the gates, just up a slope. Walking in, you go
up a flight of stairs made of uneven rock that's surrounded by greenery. To the
right, you will find ladies sitting cross-legged, baking fresh loaves, and onwards you go
to enter the seating area.
An outdoor space, the design of the Andrea is simple yet
equally edgy. Bright, almost neon, colours adorn the walls and canvas sheets make
up the ceiling. Tables are set up on different floor levels, flowers and
greenery fill in the spaces. There's an earthiness to the approach that is pleasing on the eye and welcoming.
A pretty direct menu of appetisers that includes dishes such
as chicken livers, vine leaves, kofta and cold dips, the main courses are
essentially chicken ones: half a grilled chicken, boneless chicken and shish
tawouk – other meats are available but upon special request. Starting with a baladi salad (10LE), we also ordered tehina (8LE),
kofta, vine leaves, yoghurt (8LE) and sambousak to begin. The salad was fresh
with a nice amount of dressing; it goes very well with some tehina and their
warm baladi bread. The sambousak was fantastic with a crispy shell and an
oozing soft cheese centre. The kofta was
well seasoned, though they would have been nicer had they been slightly crispy
on the outside. The vine leaves were also good but come with meat inside in
case this is not your thing.
While we munched on our starters, the boneless chicken
(50LE) was served to us from a bigger plate carrying other grilled items. We
were promised French fries with the chicken and were disappointed not to get
any, however we did get a taste from the ones served with the kofta which were
homemade and full of taste. The chicken itself was delicious in flavour and perfectly
cooked, but for a 'boneless' dish, it sadly had quite a few cartilage and small
bones that needed to be avoided.
Andrea serves beer which adds to the ambience of a relaxed outdoor meal after a day by the beach. Their dessert menu remains simple; you
have the choice between a watermelon slice or ice cream.
The service at Andrea is generally alert and efficient,
despite the fact that we needed to ask for the tehina several times. If you are
a frequent customer, all the better, because then you can call out to the staff
by name, and will probably even be greeted by owner Omar Rateb himself.
Reliable, dependable and consistent; Andrea is also good
because of its value for money. For three people, a full meal and several
beers, the bill was just shy of 400LE.