Bella: Cairo's Corporate-Cosy Brunch
12:30PM - 4PM/ 7PM - midnight -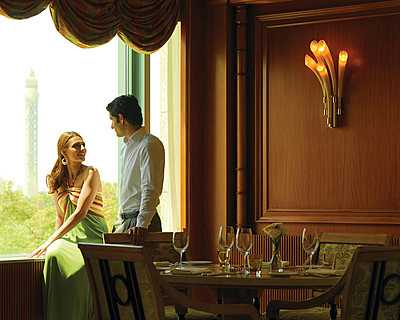 Lunching at
the Four Seasons Nile Plaza's resident Italian restaurant Bella almost feels
like dining in New York's posh Upper East Side. The hotel restaurant emanates a
feeling of crisp business luxury, with grand dining chairs, banquet decor and
glass table tops. This is the sort of restaurant where a bottle of Aquafina
water is whisked to your table in a silver ice-bucket, like any distinguished
bottle of white wine.
While hotel
dining generally threatens to border on sterile, Bella is just charming enough
to provide a refreshing lunch spot. The stunning Nile view gives the illusion
that Cairo is
nothing but scenic and serene, with a gently flowing river snaking through. The
service is impeccable, though we were not partial to the Four Seasons uniform,
which is reminiscent of 1950s stewardess attire without that vintage edge.
Bella offers a business lunch set menu for 175LE, which includes an antipasti,
a main course and dessert. With added drinks and service charges, expect the
set price to increase somewhat.
Starters include roasted eggplant and buffalo mozzarella served warm on a bed
of baby greens. The Four Season's notoriously fresh ingredients, reportedly
imported from select international markets, make for captivating flavours in
even the simplest of dishes. The lightly cured mozzarella contrasts divinely
with the tart greens and tangy sundried tomatoes. The bruschetta of fresh
tomatoes is light but full of flavour, while the salads have varied greens of arugula,
endives and spring lettuce, light olive oil dressing and garnishes of toasted
pine nuts. The beef carpaccio is served in slices that are more substantial
than usual, and the salt of the meat is balanced with a balsamic dressing.
Main courses offer a range of gnocchi, pastas, risottos and fillets. The heavenly
honey-and-black-pepper-crusted salmon is cooked to perfection, with a brazed
crisp exterior encasing the tender texture of the fish. The dish was
accompanied by an impressive potato mille-feuille layered with tomatoes and
eggplant. The New York
steak was cooked to our medium-rare specifications, and marinated in rich sauce
with a tasty side salad.
The coffee at
Bella is excellent; the well-brewed espressos and cappuccinos prompted sighs of
satisfaction around our table. With dessert, we encountered our first worry:
the quartet of crème brûlée tasted oddly artificial; with a selection of
vanilla, coffee, berry and pistachio crème brûlées, a few even sadly lacked the
crisp brûlée surface, and instead were sub-par mousses. Our tastebuds were
rescued by the chocolate molten cake, which was a dark chocolate enthusiast's
delight, while the panna cotta with berry ice cream hit the spot.
Bella brings
lunch in Cairo
to new heights by combining gourmet dining with casual dishes in a way that gives
lunch among friends just the right among of sophistication without being
stuffy.