Benissimo: New Italian Restaurant in Zamalek
Al Mansour Mohamed street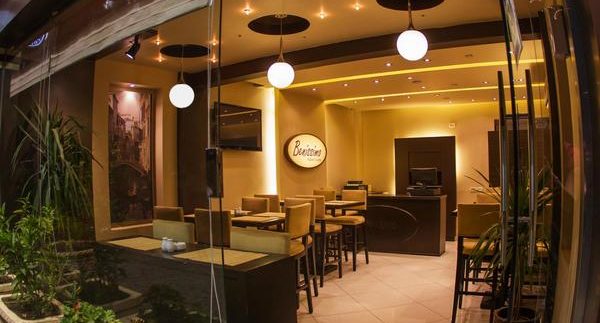 It seems licenses
to open up a restaurant are given out for free lately by the government. Everywhere you look, new restaurant and cafes are
blooming, especially in Zamalek. One of the latest venues to open is Italian eatery Benissimo.
Located by Kafficho and Hardee's, this once quiet corner of Zamalek is rapidly gaining
more and more popularity and foot traffic.
Benissimo's
interior is fairly plain; modern and slick, but lacking ambiance. The walls, tables
and ceiling are all the same colour and the lamps are very bright giving a slightly uncomfortable feel to the place. The menu is just as boring as the décor.

There were only
four starters to choose from; two soups and two salads. Because of this very
limited choice we decided to skip the appetizers and instead focus on the pizza
and pasta. While browsing the menu we received complimentary bruschetta with
fresh tomatoes, olives and cheese. It turned out to be very good and we are sure
this would be a popular item if it were added to the appetizers on the menu.
After the tasty
bruschetta, expectations were high and when we received the food we couldn't
help but dig in. The blue cheese
and walnut pasta (21LE) came without the walnuts, the blue cheese sauce was
surprisingly tasty and not overpowering, but the pasta was undercooked and
difficult to chew.
Despite this, it fared better than the steak with mushroom sauce (48LE). The meat
was of very low quality and lacked the tenderness one looks for with steak; it was tough and riddle with fat
and tendons. Even just cutting the meat proved to be difficult.
The mushroom sauce was way too salty while the mashed potatoes
on the side were plain and overall lacked in taste.
The chicken
barbeque pizza (29LE) hit the spot without being spectacular. The barbeque sauce that topped the pizza overpowered the chicken but at least it
wasn't drowned in cheese, as is the case with a lot of pizza in Cairo.

To their credit, staff members were helpful, pleasant and prompt despite our gripes. As with all new restaurants, Benissimo shows promise, but the restaurant is in esteemed company in Zamalek and will need to improve drastically to compete.