Chez Martine: Quiet and Quiche
Flamenco Cairo Hotel El Masry Tower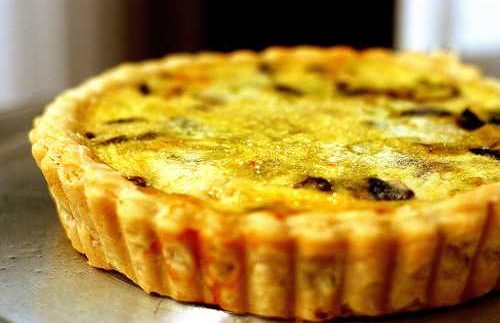 One thing seasoned diners know is that many of Cairo's
best restaurants are inconspicuously hidden in hard-to-find corners of the
city. Nestled in the corner of the mezzanine floor of the Metro Towers
in Zamalek is a quaint French Bistro. This quiet eatery is mostly known for its
selection of quiche, though the chef prepares a wide variety of classic French favourites
and satisfying salads as well.
Chez Martine's simple yet charming décor consists
mostly of beige and black with photographs of iconic French landmarks along the
walls. Owned by a French ex-pat who prepares the food daily, the restaurant has
a very homey quality. The owner greeted us with a friendly smile and an offer
to sit anywhere we pleased– indeed, we were the only customers there.
We were a bit surprised that everything on the menu
was available considering the seemingly modest patronage, but we placed our lunch
order without any problem and sipped surprisingly fresh orange juice while we
waited. The quality of the experience was certainly not affected by the lack of
traffic; at one point someone even left the kitchen for a quick errand to Metro
Market, rather than disappointing us with news of a missing ingredient.
Our salads came in a timely manner and were simple yet
tasty. Although the beans and corn on the La Parisienne salad (17LE) were
canned, the greens were fresh and crisp. The homemade mustard dressing was
bright with citrus and had just the right amount of bite. The chicken Caesar
salad (17LE) was also pleasing, topped with pan-roasted croutons, and although
the cheese was softer than the traditional parmesan; it was sharp enough to
complement the salad.
We followed our first course with a spinach quiche (20LE),
salmon quiche (25LE), and the Chicken Provencal (48.50LE). The individual
quiches were fresh and cooked just right, with a golden brown top giving way to
a fluffy, steaming centre. The spinach was truly a bit more of a pie,
consisting primarily of the vegetable, while the salmon was a better balanced
blend of egg and the poached fish. Both
were well-seasoned with buttery, flaky crusts. The chicken stew and rice looked
quite simple, but it was bursting with flavour and the chicken was braised to a
tender delight.
We returned a few weeks later to order take-out and
had the same salad and a leek quiche. We
waited for our food rather nervously as the cheerful French lady who had left us
slightly homesick for a mother's meal was nowhere in sight.

Once home and
halfway through the salad, it became clear that the magic is in Martine
herself. Having not been dried properly, the vegetables were completely waterlogged.
While the leeks in the quiche were soft and sweet, the crust and eggs were not
quite up to par, leaving us less than satisfied with our takeaway.