Cortado: New Lunch Spot in Mohandiseen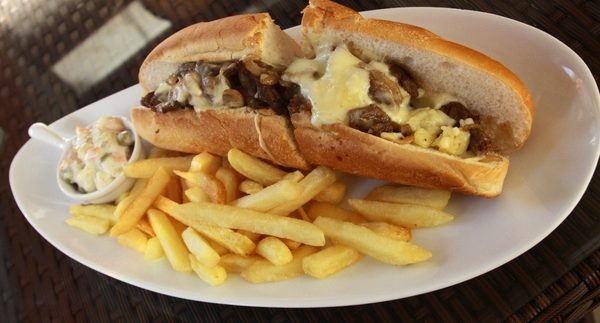 Mohandiseen's latest addition, Cortado, teases
us with menu items still unavailable. The carte lists a smorgasbord of
continental – mostly Spanish and Italian – classics, surf and turf, full salads, pizzas,
pastas, burgers and sandwiches, but since its pre-Ramadan opening more than a month
ago, Cortado's options are limited.
Despite the initial setback, we tasted what
they had to offer. For appetisers, we sampled the spring rolls (19.99LE) and
the stuffed mushrooms (22.99LE), while for mains, we settled for the Philly
steak sandwich (34.99LE) and the Napolitan pizza (44.99LE).
For a new dig typical of mainstream
supper clubs and restaurant lounges, complete with duotone themes (in this
case, Princeton orange and chocolate brown) and a cheesy fountain display,
Cortado surpassed our gourmet expectations.
The spring rolls were light and crunchy,
but not too oily and not too chewy. The stuffing of julienned mixed veggies was
a bit faint, but the wrap held together well and came with a delectable tangy
dipping sauce made from a sweet, spiced mayonnaise.
The highlight of our tour came early on with
an order of stuffed mushrooms. Button mushrooms are lightly coated with a
crispy, golden batter and packed with minced onion and spinach, then swathed with
a blanket of real, melted Parmesan. The appetiser makes the review.
Perfect for a hungry businessman (or woman)
on lunch break or on the go, the Philly steak sandwich takes a toasted sub and
folds in a generous helping of beef and white cheese and is served with a glove
of fries and a soupcon of Russian salad. The tender cuts of meat were well-marinated;
condiments are gratuitous.
The pizza, however, could be improved. The
toppings of beef ham, olives, mozzarella and marinara sauce met our standards,
but the crust fell short. The perfect pizza dough is a balance of sweet and
savory, golden with the occasional air pocket and a light, fluffy texture that
still retains its form. Cortado's pizza crust held but was heavy and
pale, requiring a few more minutes in the oven.
What's in a name? A cortado is a coffee concoction popular in
Spain and Portugal that blends a shot of espresso with tempered milk poured to
its rim. So expecting a cortado or a special coffee selection, we decided to
wash down our lunchtime review with a choice from its coffee bar. But much to
our disappointment, no such drink exists. Instead, we went with a latte (12.95LE) and a
marshmallow cappuccino (14.95LE). Both were just fine.
All in all, Cortado makes an acceptable
lunch in class. And at least for now, the service is all smiles and shortcuts on quality beef and real cheese
are far and few. A dinner review in a month or so is well in order.