Donermania: Donating Discreet Deliciousness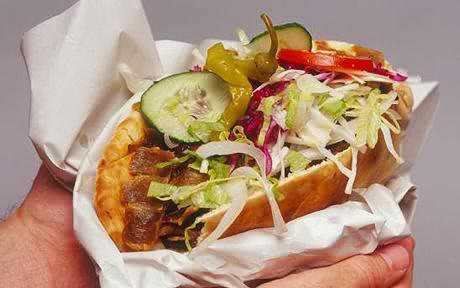 This is not your friendly
neighbourhood shawerma stand. A Doner kabab may look like a Levantine meat
sandwich, but take one bite and you'll taste the difference. Your garden
variety shawerma consists of layers of beef or chicken slices, which is
vertically roasted and shaved off with a machete.
However, Donermania grinds
the beef on site, mixes in their unique spice mix, shapes it on the spit and
roasts it vertically. The technique is not what changes the name; it's the
flavour. And judging by flavour alone, Donermania delivers. Oh, and they do
actually deliver– they offer home delivery to Zamalek, Giza, Mohandiseen,
Downtown and Dokki.
But one visit is not enough,
and Donermania has a quality not unlike illegal substances– it's insanely
addictive. Other than the doner kabab sandwiches, they also have a divine shish
tawouk sandwich, marinated in yoghurt and grilled to order. Wrapped snugly in
thin bread, the nuggets of succulent chicken send one message to your brain:
take another bite. Yes, it's that good, folks.
It doesn't stop there; like
any self-respecting fast-food emporium, Donermania has French fries on the
menu, but these potatoes are lifted to gustatory greatness by the seasoning
added to the potatoes.
There are a few caveats:
there really is no seating area to speak of, since there is only a single table
set out in the alleyway, and a narrow bar in front of the kitchen area. Then
again, you're not meant to languish there long– get your sandwich, get your
fill, and get out. It's fast fast food.
Thankfully, the afterglow is
one of delighted contentedness, and not one of a regretfully bloated
constitution. Fans of frugality will be happy to learn that a full combo meal
can set you back no more than 20LE– just add 5LE to your sandwich order to make
it a combo.
The only thing that prevents
this from being the perfect work lunch is the powerful garlic and red onion
flavour of the sauces and garnishes added to your sandwich. However, Al Green
said it best: 'If it's wrong/ Then I don't want to be right.' Spend the extra
money saved on a box of breath mints, and tuck in greedily.