Karvin Massala: An Indian Getaway in The Newest Part of New Cairo
Mivida Compound, Street 90

Within approximately two years time, Cairo's eastern side will likely come to function as a new heart for one of the world's oldest and most crowded metropolitan capitals. To prepare ourselves for this big transition, we decided to venture out eastwards this weekend.  Indeed, we have decided to review one of the first venues to open up in this part of town: Karvin Massala, a restaurant located in New Cairo's Mivida Compound. We do have to warn you, mainly because the main roads in this area have yet to be fully completed. Was it worth the trip though? Well, we will definitely give you our two cents, and you can decide for yourself.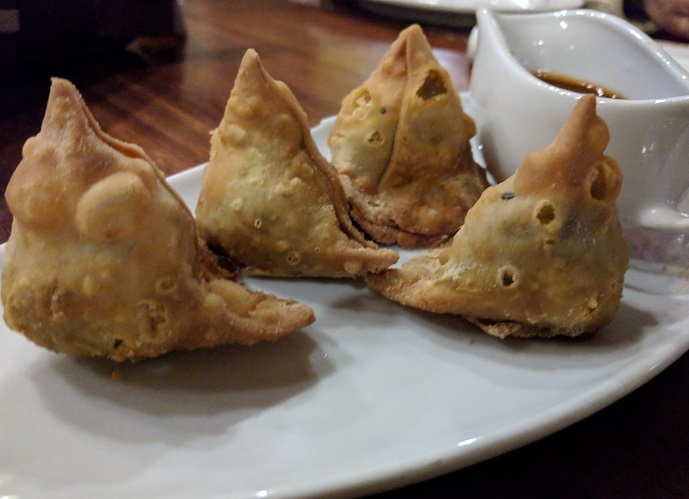 For starters, do not let the restaurant's name fool you into thinking that it only serves Indian food; the restaurant possesses both an international cuisine menu and an Indian cuisine menu. The restaurant's design, décor, and ambiance did a great job at reflecting this mixture in a manner that was both subtle and chic. The restaurant's indoor dining area is divided into two sections; one section contained the bright colored chairs and the portraits of Indian women dressed in Sarris that you would expect at an Indian restaurant, whilst the other side of the restaurant contained a much more classical seating area.
Overall, however, the restaurant had a much more fine dining feel to it, than it did a casual dining feel, especially since it was extremely quiet.  Indeed, if you are a fan of quiet weekend dinners, or you are looking for a date night venue, then this place is surely for you.
Once we walked in, the waiters greeted us, and we opted for a seat within the more Indian looking part of the venue. We were then each handed two menus; an international menu containing staple classics like mozzarella sticks, salads (like Greek salad and caeser salad), sandwiches, and chicken/beef plates, and an Indian cuisine menu, containing an array of classic Indian dishes.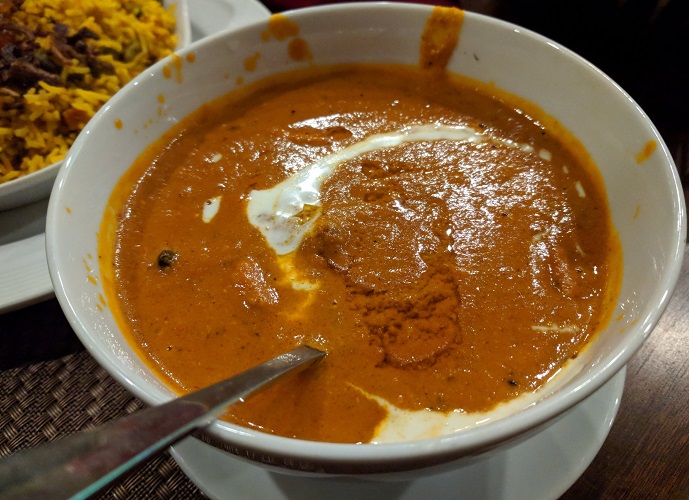 We opted for a selection of appetisers and main courses from both menus; samosas from the Indian menu (35. 52 LE) and sausage with pomegranate sauce from the international menu (40.25 LE) acted as our appetizers.  For our main courses we had the Murgh Makani (82.50 LE) with a side of garlic/butter Naan bread  (18.70); the Massala Kebab Platter (99.00 LE) with a side of vegetable biryani rice (60.50 LE), and chicken cordon bleu that came with a side of fries and rice from the international menu (85.00 LE).
Besides staple alcoholic beverages (beer and wine), and a classic selection of soft and hot drinks, none of the restaurant's fruit smoothie cocktails were available for order at the time of our visit. We also have to say that the restaurant's Indian menu does contain an entire section dedicated to vegetarian dishes (a relatively rare occurrence in Egyptian restaurants).
Our appetisers arrived approximately 15 minutes after we ordered them. Stuffed with spiced mashed potatoes, the samosas' pastry was quiet delicious, in as much as it was fried to a perfect crunch. This appetiser also came with a very smoky and spicy barbecue like sauce, which complemented the pastry's taste and texture really well. One thing, however, that could be improved about this dish was the extent to which the potatoes were spiced; given that the dipping sauce was very flavorful, the potatoes did not need to be super flavorful as well.
Our second appetiser – the sausage – came in a pomegranate sauce. Upon tasting it, we could immediately tell that the sausage's meat was extremely fresh. There was nothing, however, extraordinary in terms of either taste or presentation about this dish.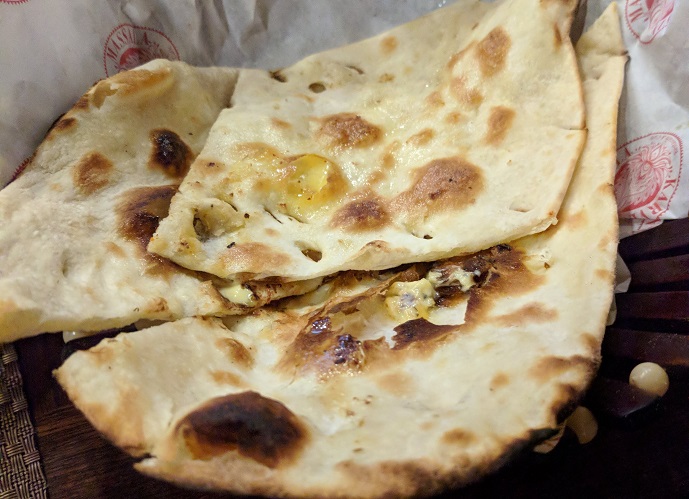 After we cleared our plates, it took the waiter 10 minutes to serve us our main courses, and the corresponding side orders (the naan bread and the vegetable byriani rice). The Murgh Makani came in a bowl: the dish consisted of several pieces of boneless chicken cooked and served in a creamy and buttery tomato sauce. The chicken was perfectly cooked, and the plate itself contained a good portion of chicken. The garlic/butter naan bread proved to be an ideal dipping partner for the aforementioned tomato sauce. The plate, however, could have benefitted from a cleaner presentation.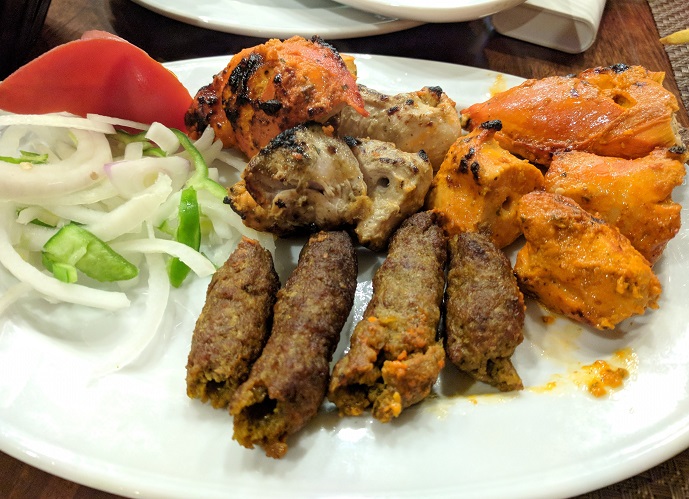 The second main course – the Massala Kebab Platter- can be best described as an Indian cuisine version of a mixed grill plate. It contained pieces of meat that resembled kofta skewers, and large slices of boneless chicken breasts. We have to say that the kofta skewers were not that extraordinary; they tasted just like regular kofta skewers, and lacked the spice rich flavour that you  would typically associate with Indian cuisine.  On the contrary, the chicken was cooked and marinated in a sea of well harmonized spices. 
The skewers' aforementioned dullness was also made up for by the originality of the vegetable byriani rice dish; the rice contained several elements –our favorite being cottage cheese and uncooked cashew nuts – that truly gave it a unique crunch and distinct flavor.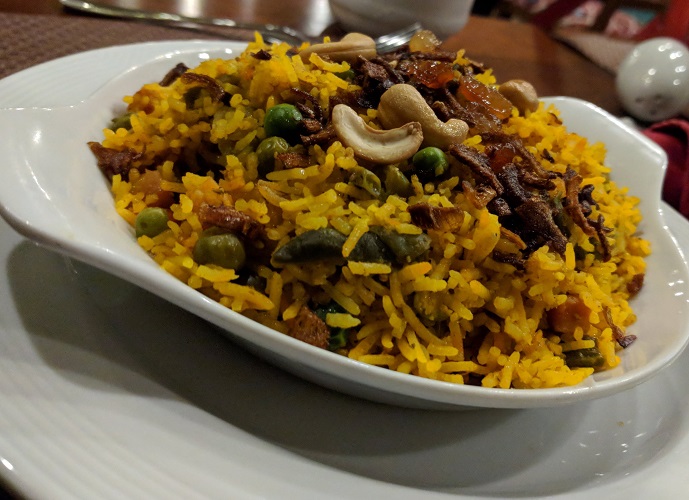 The third main course – the international menu's cordon bleu – fell short of the standard of creativity established by the rice. Despite the fact that the breaded chicken was stuffed with a good amount of roast beef, and was topped with an excellent amount of cheddar cheese, the chicken was presented in a way that was bland in flavour, because it was underseasoned. The fries and white rice that came with this dish were equally devoid of flavour. 
Unfortunately, we did not get a chance to try any of their desserts as they were unavailable for order, at the time of our visit. We ended up paying a total of 526.50 LE. We think that the price is reasonable for the somewhat fine dining experience offered by the venue and the great Indian food, but we do not think that the quality for money is as fair when it comes to the international menu.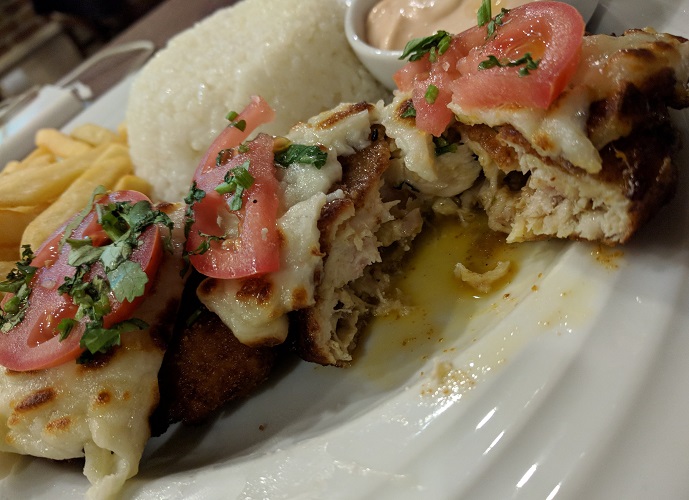 While the presence of two distinct menus is something which is a good idea, especially in market like that of Egypt where consumers are not used to the idea of ethnic cuisines – history and experience has taught us to be weary of the ways in which this idea is applied. Firstly, the presence of an international menu and the corresponding classics may make consumers less likely to try the cool and creative creations present in other menus. Secondly, having a kitchen divided between two entirely different cuisines may mean that the labor is split unevenly between the two types of cuisines available. In other words, yes, comfortable classics are important, but having a venue which can potentially push the edge of a customer's comfort zone is aspect which holds much more potential, than good old comfort.