Kasr El Shouk: Egyptian Restaurant in Dokki Combining New & Old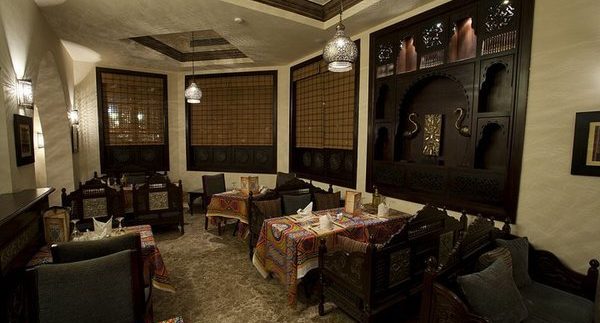 Many of us can become nostalgic for traditional Egyptian food,
especially considering the amount of foreign cuisine that has engulfed Cairo. Classical
Egyptian has been in danger of disappearing from the market but Kasr El Shouk in
Dokki, continues to fly the flag with a menu that includes favourites such as fatta,
mesa'aa, molokheya, stuffed pigeon, and tagen-cooked meat and vegetables.
From the outside, the building that hosts the restaurant looks like a traditional
two-storey Egyptian house. Once you enter through the beautiful wooden door,
you'll be amazed at how this place balances modernity and authenticity. Not
only does it look Egyptian, but also carries the qualities of generosity and
hospitality.
The Om Kalthoum songs that play in background help in creating a
soothing, welcoming atmosphere. The lighting was neither too dim nor too bright;
which further added to the pleasant ambiance.
The service was almost at hotel standard; we were escorted to the second
floor, and then led by our waiter to our table. A short time after we sat, they
served us complimentary hibiscus as a welcome drink. A few minutes after we
ordered, the waiter brought us warm towels and waited until we were finished to
take them away.
We ordered a raheb salad (9LE), tomato and cream soup served with
croutons (12LE), and a mixed platter of mahshi (9LE) – which was composed of
stuffed vine leaves, stuffed zucchinis, stuffed green peppers and stuffed
cabbage, served with yoghurt and freshly baked bread. They all tasted like
homemade mahshi.
Before serving our main course, the waiter brought several metal holders
with a candle under each, these were used to put under the plates in order to
keep our food warm.
We had ordered a tagen she'reya (39LE), veal tagen (55LE),and some fresh
kishk (35LE). The first dish
had rice mixed with she'reya, and the second was also mainly rice, but with
meat added. Both items tasted good but the tagen she'rya had a bit too much
salt. As for the kishk; its normal consistency is usually milkier than the one
served to us, but it was nonetheless very tasty with its accompanying sauce
adding to the flavor. Ultimately
Finally, for dessert, we opted for the nouga Kasr El Shouk (18LE), made
up of mixed dry fruits and nuts in fresh ice cream, with a slice of white cake
and juice. By all standards, this was the perfect oriental dessert to have
after a wholesome Egyptian meal. For the third time we were served sweet potato
and again, it was on the house.
Kasr El Shouk is highly recommended because you have the chance to try
something you rarely find in other places around town.