KFC: Dokki Fast Food Branch Run by the Hearing Impaired
9 El Sad El Aly St. ( off Viny Sq. )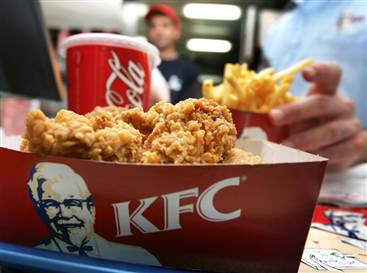 No doubt,
many of you will read this article, raise an eyebrow and ask, why is Cairo
360 reviewing KFC when there are so many more interesting restaurants to write
about? Well for starters, we like to indulge in unhealthy fried food
occasionally. Secondly, and most importantly, this is not just a regular
KFC. The KFC branch in Dokki is a Community Care restaurant where all the staff
is hearing impaired.
As soon
as you come in you can already feel the difference between this venue and any
other KFC restaurant. It's relative quiet; nobody is screaming in the kitchen
and instead of being greeted with a simple 'hello,' you are welcomed with a big
smile by the staff. The overall venue looks a lot cleaner than most KFC branches
and on the wall is a banner carrying the sign language alphabet. The system
here is as follows: on the counter is a menu where you can point out what you
want to eat. If you choose a combo, then point out your drink on the drinks
machine. You can also specify if you want your chicken pieces regular or hot,
and if you want to eat at the restaurant or have it as take away.
We opted
for the dinner box (26LE), the zinger shrimp combo (39LE), the Rizo with
chicken (10LE) and a roller (5LE). The dinner box had three fried chicken
pieces, coleslaw and a bun as well as fries and a drink. We normally find
Kentucky pretty disappointing; but this time the chicken actually had tasty skin. The
meat was per usual tender and came off the bone easily. The fries could use so
more salt; but that's also a matter of personal preferences perhaps. We fell in
love with the shrimp. We received a large portion of fried shrimp and cocktail
sauce on the side. The shrimp were a bit spicy and absolutely delicious; with or
without sauce. We fear a new addiction here to be honest.
The rizo with chicken is Kentucky's answer to
chicken risotto, or so it seems. The somewhat sticky rice comes with a sweet
and spicy sauce and chicken pieces. It's perfectly pleasant, but doesn't qualify
as a meal on its own. The same goes for the rollers. They are more snacks than
anything else. Filled with fresh tomatoes and lettuce, you can almost trick
yourself into thinking you are eating something healthy.
This
branch of KFC is a whole new experience and everybody should visit at least
once. It's a great initiative that deserves support. We found the food quality here better than
other branches to be honest, and it was definitely a lot cleaner. We would love
to see more restaurants like this popping up around Cairo. The initiative helps
people who otherwise would have a lot of problems finding employment. Bravo
KFC!