Mado's Big Bite: Sandwiches Bark Louder Than They Bite in Maadi
Mon 10AM-12AM Thurs-Fri 10AM-1AM (Delivery only) -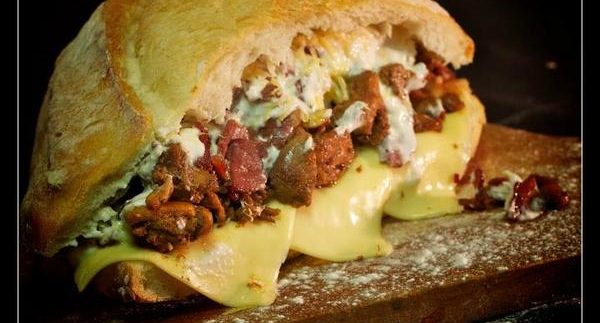 This delivery-only
Maadi eatery boasts 'the most exquisite international cuisine' consisting of huge
sandwiches and salads. Unfortunately, our first experience with the 'biggest
bite in town' proved to be a trying one. Mado's should worry less about
quantity and more about quality.
It was a
challenge just to place an order in the first place. The menu on Mado's Facebook
page is hard to read while the one on the official website is not only
incomplete but also contains food descriptions that are constantly changing much
to the annoyance of any visitor. After one call to reconfirm the address, the
food was delivered in an acceptable forty minutes.
We ordered the
regular Tzatziki chicken sandwich (24.99LE) and the Chik 'N Chips (24.99LE) and were
not pleased with the result. The Tzatziki chicken thighs were undistinguishable
from the accompanying mushrooms and the bacon and strained yogurt did little to
help the overall appeal of the dish. The mushroom-chicken combination was
stuffed into a large ciabatta roll that would have overpowered the taste of
just about any of its contents. On the other hand, the Chik 'N Chips offered a meagre
portion of marinated and spiced chicken sitting atop a mound of French fries. The
sweet chilli sauce on the side served as an acceptable dipping sauce for the
fries; however, any sauce cup will run you an extra 3LE.
These two orders
were all the more disappointing because the menu offered little more in the way
of appetising dishes. All sandwiches are sized regular, Big Bite and Mega Bite and
include the Sweet Chili Prawn (40.99LE/54.99LE/70.99LE), BBQ chicken (24.99LE/36.99LE/45.99LE),
and the Big Beefer (35.99LE/54.99LE/64.99LE). Other options include French
fries (9.99LE), tomato basil salad (15.99LE), tuna salad (22.99LE) topped with crab
meat, and three different types of garlic bread ranging from 15.99LE-56.99LE
depending on your desired amount of cheese and bacon.
When the food
arrived, the price on the receipt was conveniently more expensive than the
price quoted over the phone. Though the difference was only a few pounds, the price
discrepancy resulted in an awkward shuffle for more change as the delivery man
stood at the door. Having been disappointed by the food and unimpressed with
the promised mega portions, this reviewer will not be ordering from Mado's until
they iron out their kinks.