Roma Pizza 2 Go: Delivery-Only Pizza Chain Now in Maadi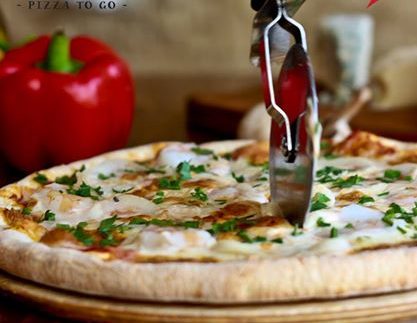 There's a very wide gap in the pizza market in Egypt. At one end, you have the deep dish, ridiculously greasy localized version of pizza that frequent toppings like roumi cheese and sogo', and then you have a small selection of pizzerias who serve a thinner crust and place more emphasis on the tomato sauce.
Roma Pizza, Buffalo Burger's delivery-only sister restaurant, recently opened a new branch in Maadi, one of few locations that had previously been off their delivery radar. Maadi is home to some of the best pizzas available in Egypt, and its' residents know their food, so competition for Roma Pizza is fierce right off the bat.
So, let's dive into the good stuff. The topping selection is pretty standard, with the exception of a Cheese Burger pizza, so for our relatively large group we opted for three family sized pizzas. The 'family size' is about 40 cm wide, which is huge, keep in that in mind lest you over order like we did.
We opted for a Pepperoni (79LE) with an addition of fresh mushrooms (10LE), a Cheese Burger pizza (89LE) and a Hawaiian (89LE). Additionally, we also order some large Wedges (16LE) and Chicken Wings (22LE).
First, we need to point out that we were five people, and that amount of food could easily feed ten. Delivery was unfortunately slow, taking about an hour to get to us. While we understand taking the full 45 minutes when there's a large order, still, we were extremely close by and it shouldn't have taken that long.
The pizzas themselves had a sort of in between crust; not very thin, but thin enough to maintain a crunch. The tomato sauce lacked a little salt, but more importantly, it lacked quantity, which was a little disappointing. Also, the pepperoni tasted like regular salami.
The Cheese Burger pizza has the strangest toppings of all, Buffalo burger, American cheese, lettuce, thousand island sauce, red onions, dill and tomatoes. Essentially, if you fold the enormous slice over, it becomes a burger, that doesn't quite have enough burger in it.
The Hawaiian pizza, with salami that's advertised as pepperoni, pineapples and beef topping, had an overall bland taste which we're attributing to the salt-less tomato sauce.
As for our sides, the Wedges were actually very good, and fried to a very nice crisp. The Chicken Wings didn't fare as well, ending up rather soggy and greasy.
Roma Pizza may not be able to compete against higher end pizzerias, but it will definitely give you a good alternative to the likes of Pizza Hut and Papa John's. We personally liked the crust very much, and wouldn't mind a cheese pizza with fresh mushrooms if they would just add that pinch of salt to the tomato sauce.