Saladero: New Salad Bar in Zamalek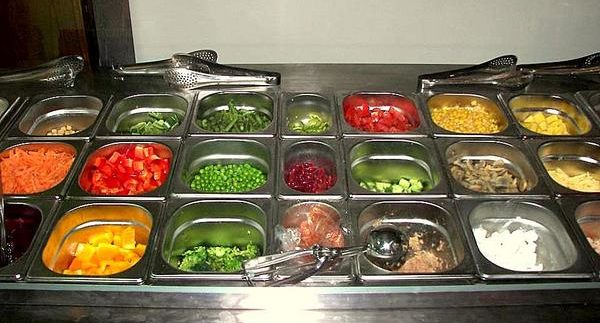 If there
is something that always gets us excited at the Cairo 360 office it's the
prospect of healthy food. Having been impressed by the Salad in Heliopolis, we
were excited to find out that another salad bar would open in Zamalek. AUC
students might be familiar with the name Saladero on account of the on-campus
branch, but the healthy eatery has opened a new branch on Taha Hussein Street where
Munchies once was before moving next door.
Saladero
is relatively small and only has a few tables to sit on. On the left side is
the salad bar and a small cooler where the sandwiches are kept. The system at
Saladero is as follows: you choose a salad base first. The available options
are lettuce, spinach and pasta. From here, you add two premium ingredients. The
list of premium ingredients is quite long but consists of items such as tuna,
turkey, mushrooms, cheese and corn. If you want to add shrimp or salmon to your
salad you have to fork out an extra 5LE. You can then add unlimited vegetables
such as tomatoes, carrots, beets, olives, potatoes and eggs. Then finally, you
can add a dressing to your salad.
We opted
for a lettuce salad (22LE) with chicken, corn, cheese, vegetables and Caesar
dressing. Though the chicken was nicely grilled and the salad was filling, some
of the vegetables were not fresh. We also took a pasta salad (22LE) and topped
that with salmon (5LE), onion, vegetables and olive oil vinegar dressing as advised
by the staff. The whole salad tasted rather bleak. Once again the vegetables
weren't fresh and therefore relatively tasteless. The pasta was al dente but
bland and added nothing to the meal except for carbs.
Thankfully,
we also took the club sandwich (22LE) which was rather good. It was made up of three
layers; one filled with eggs, the other with cheddar cheese and one with beef
slices, all of which passed the taste-test with decent results. The bread was a
bit soggy though and drenched by tomato but nevertheless quite pleasant.
Though
we love the concept behind Saladero and the staff are extremely helpful and polite, we
feel like they have a long way to go. Healthy food doesn't have to be plain or boring and so perhaps some more exciting ingredients
such as blue cheese, brie, grapes, kiwi, etc would have us coming back for more.