Salt: Exquisite French Cuisine in Heliopolis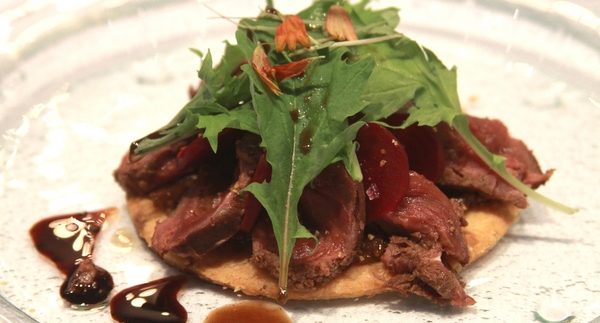 Stashed like a clandestine vault in the new
Gabriel Hotel at Sun City Mall in Heliopolis – so fresh that security and
information services were unaware of the restaurant's fourth-floor location – the two-month-old Salt resembles a den for a don and his suited
flunkies.
A windowless room with larger-than-life divans
in blue velvet, studded chairs in ivory suede, staggered mirrors, crystal chandeliers and
obelisks, periwinkle wall trimmings, a pair of sculpted knock-offs of Venus de
Milo and a waiter clad in standard barman gear – burgundy bow-tie and red
suspenders to match – strut the Mafia motif.
Frankly, the décor is borderline gaudy, but
if the lighting were dimmed a notch and white tablecloths, spotlighted, Salt could
just as well be one of the swankiest watering holes in the city – all at a fair
price. Fine French for two that includes fish, lamb, duck and foie gras for
under 500LE is a moveable feast.

Chef Bruno Contreras, a French transplant who
before moving to Cairo six months ago ran a five-star restaurant at a resort in
the Maldives, schools our palates with a dinner menu limited to a choice of six
appetizers, six main courses and six desserts.
To begin, a selection of complimentary
breads brought to the table on a cutting board amused our bouches and were served
with a touch of olive oil and sea salt. Our favourites were the date roll and
the potato bread, but they're all worthy of sampling (and they're free).
For starters, we splurged with the duck
breast (75LE) and the foie gras (85LE). The former was cured and sliced over a
parmesan almond biscuit spread with a dry fig paste and slices of beetroot,
while the latter was presented in generous tranches of rich goose liver to
spread on two dainty, golden brioches. A third brioche may be necessary.
For mains, hearty chunks of lamb shoulder
(87LE) seasoned with kofta spices and cumin carousel around a mound of creamy
potato purée laurelled with twigs of thyme and asparagus; and two portions of
grilled red snapper (73LE) mounted a bed of black rice, anise and artichoke – a
medley that was flavourful but a tad too oily. The fish was flaky and its skin
crispy; and the lamb could have come with a bit more fat-in. But if you're into a romp
well-done, it's a keeper.
Dessert came down to a toss-up between the
panna cotta (34LE) and the crème brulée (34LE). But in keeping with the soirée française, we
went with the brulée. Traditionally, a thin layer of sugar is torched atop a custard
base. But Salt's rendition takes the layer and whirls it in mid-air and freezes
it into a static cascade of glistening candied sugar. And if that isn't a dénouement
to a climactic meal, Chef Bruno astounds us with his variations on crème: three
orbs of creamy mousse infused with lemon, white chocolate and rosemary – c'est vachement bon!
Presentation and service all-around at Salt
exceeded expectations. Overall, Chef Bruno's cookery accentuates the essence,
flavours and textures of pure ingredients and elevates an otherwise simple,
straightforward menu. Salt is Cairo's go-to for modern French cuisine done right,
bar none.