Semsema: Egyptian Style Drive-Through in Dokki
6 El Dokki St. ( beside the German School )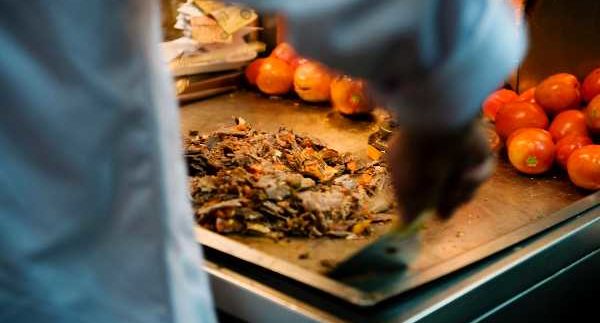 They may tell you to drive
around to the next window at McDonalds in Maadi; but for most fast food restaurants
in Cairo, drive-through
means something a little different. Pulled
over on the side of the street, cars are double-parked with hungry passengers
placing orders or waiting to receive a tray of food, which is then clipped onto
the window. This is the scene at many
Egyptian drive-through restaurants such as Semsema in Dokki.
Located right on the busy Dokki Street, Semsema
almost always involves double-parking your car on the street and honking for
service. Within minutes, someone will take
your order, even on Semsema's busiest nights when a long line of cars make
patrolling traffic police a little grumpy. In less than ten minutes, a tray of food is delivered to your car and
clipped onto your window. The waiter
usually even hands you plates from the tray and helps you set up your feast on
the dashboard of the car. Honestly, the
service at Semsema is quicker, more thorough and friendlier than many
traditional sit-down restaurants in Cairo.
As for the food at Semsema,
it's hit-or-miss. The small meat
shawerma on a Kaiser roll (3.75LE, while a larger shawerma goes for 11LE) with
a drizzle of tehina and a slice of grilled pepper is not to be missed. The
succulent meat is full of flavour and surprisingly lean, while the bread is
soft and spongy. An order of mixed
pickles (2LE) arrives with the contents of the dish piled high on a plate. Pickled
lemons, cucumbers, carrots, onions and olives are crisp and have just the right
amount of kick.
Semsema's mixed grill (35LE)
is only adequate. At the time of this
review, they were out of kabab. Though the kofta was tender, there wasn't
enough spice to make it memorable; and the grilled chicken tawouk was poorly butchered. The grill is served with shoe-string French
fries and overcooked peas and carrots. Vine
leaves (6LE) stuffed with rice have a great texture but lack substantial flavour.
To finish your meal, we
highly recommend Semsema's crème caramel (3.25LE). Smooth and creamy, the custard is light and
delicate in flavour, while the bottom of the tin is filled with dark liquid
caramel.
If you stick with Semsema's
sandwiches and sweets, you'll want to stop at Semsema every time you're in
Dokki for a quick, cheap snack.