Sequoia: Famous Nile-side Hangout in Zamalek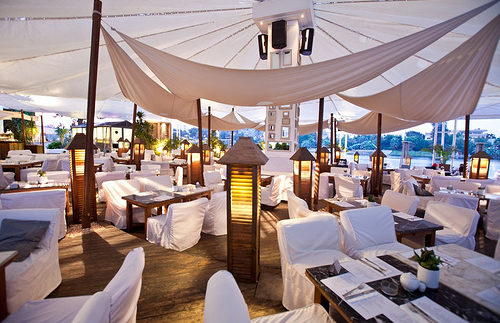 Right by the Nile in Zamalek, one of our favourite chill-out spots, Sequoia, offers everything from Egyptian and Lebanese cuisine, sushi, alcoholic and non-alcoholic cocktails, to shisha and, of course, jaw-dropping views of the Nile.
Saving ourselves from struggling to find a parking spot, we dropped the car with the valet just outside and ventured down onto the deck. We strolled past the contemporary
Left Bank
, then being greeted at the entrance, we were shown to the very last table for two.
Because this place is so popular, booking in advance is an absolute must – especially at the weekends.
We sank into our low, comfortable chairs and gazed around, taking in the stunning view of the Nile which surrounds Sequoia almost entirely. Because their is a 150LE minimum charge every day, this ensures a fairly decent, bustling crowd, out to have a good time. There is also a daycare facility at the entrance of the complex, which encourages parents to drop their children off while they wind down.
During the colder months, the restaurant is covered by a huge white canopy with removable sides to provide shelter from the wind if needs be. The lighting in the evening is provided solely by giant, wooden lanterns with dancing flames that create a cosy and sophisticated ambiance.
To save the waiters the trouble, the vast, in-house menus are already on the table acting as place-mats. The food is mainly Egyptian and Lebanese but they also have a more standard selection of pizza and pastas.
Covering an entire half of the menu, is the large selection of drinks; hot or cold and alcoholic or non-alcoholic. After contemplating our choices, we decided on a tropical sounding Sequoia Punch (22LE) and a standard Sprite (15LE). To eat, we ordered a salami pizza (50LE) and one mixed grill (98LE) which we could only assume came with all the usual meats – there are no descriptions of the dishes on the menu.
With half of us craving sushi, we also requested a menu from the mini Mori Sushi that's found on the premises. Being regulars of Mori, we swiftly ordered five pieces of salmon sashimi (33LE), two crispy salmon cheddar rolls (15LE each) and four crisp of avocado and shrimp rolls (36LE).
Despite the place being packed, the food and drink from Sequoia's kitchen arrived very quickly, a long time before the sushi surfaced.
Rightly confident enough to be named after the place, the Sequoia Punch was a delicious mixture of watermelon and peach juice and should most definitely be served in a larger glass. The pizza base was under-cooked and tasted moderately doughy, however, the flavourful salami did make up for it a little.
The mixed grill on the other hand was simple but tasty, with moist pieces of chicken, tender lamb, hearty kofta and yummy chunky chips. After we'd devoured all of this, and made a couple of queries, the sushi eventually arrived and as always, the fish was generous, fresh and delicious.
Sequoia is a suitable place for pretty much every occasion and is generally loved by everyone who's been. Although we didn't receive five star service, or food, on this occasion, you might be lucky enough to catch the kitchen on a good day.
For a more personal experience, we'd suggest turning up earlier, before the crowds arrive.