Serena Eatery: Simple, No-Frills Lebanese Dining at the Platform in Maadi
The Platform, Cornich El Maadi, Maadi
Said to be dedicated to their mother by two twin brothers, Serena Eatery plays on sense of nostalgia in trying to separate itself from what is an increasing number of Lebanese restaurants in Cairo. Although this approach has seen a restaurant like the Edward's charm diners, Serena Eatery's story is quite vague and doesn't reflect on the personality and aesthetic of the restaurant like the Edward's does.
Located at the Platform in Maadi, Serena Eatery has a very basic interior, with a colourful service station the only thing standing out against the plain white walls. The outdoor area, however, overlooks a breathtaking Nile view, with comfortable cushioned wooden chairs and couches making it a much more enticing option.
We were welcomed with a bread basket (8LE) served with hot tomato dip, thyme and sesame dip, and pickled onion and cabbage. The bread was unremarkable, though the dips had interesting flavours and the pickled cabbage boasted exquisite tart and tangy flavours.
We began our meal with a Lebanese classic that isn't found at many Lebanese restaurants in Cairo; Spinach Mashrouha (35LE). Similar to flat bread, it was topped with fresh cherry tomatos, spinach, flavourful creamy sauce and mixed cheese; it had a perfect balance of flavours and the portion was huge, making it a perfect sharing starter.
Moving to the mains, we started with levantine dumpling, Shish Barak (60LE). Cooked in a mouth-watering, garlic-infused yogurt sauce alongside four pieces of veal kebbeh, the dumpling dough was well-cooked and the minced beef stuffing was seasoned well, as was the veal kebbeh, but it would've made sense to serve it with rice – especially considering that it was listed as a Fatta on the menu.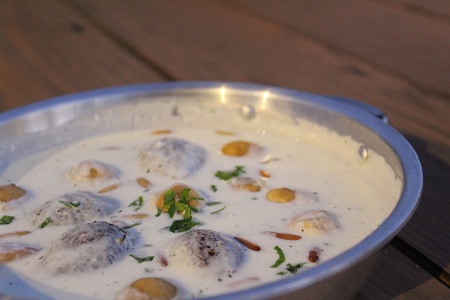 Another dish we tried was the Mixed Grill (95LE). Served with regular French fries, spicy tomato dip and garlic dip – which was really chunky and had an almost gooey consistency, similar to over-whipped egg white – the mixed grill consisted of super-tender Shish Tawook, perfectly spiced kofta and kebab, and, even though it was a bit chewy, lamb ribs bursting with flavour.
Disappointed to find that many items were missing from the dessert menu, we went with Halawa Shaar (35LE). The dessert was pretty simple, just a simple fluffy halawa shaar sprinkled with some chopped pistachio and served with a tasty scoop of mastic ice cream. Overall, the dish was good, but, again, there was nothing remarkable about it.
All in all, only a few misfires tainted an otherwise pleasant visit to Serena Eatery. Though on the surface it offers little in terms of standing out from the crowd, the reasonable prices, great view and excellent service will have people coming back time and time again.