Shawerma El Reem: Brilliant Lebanese Shawerma in Maadi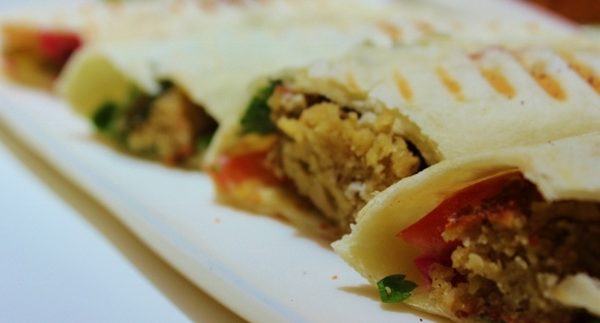 Lebanese shawerma
isn't necessarily easy to find in Cairo. While a few of these joints have
established themselves here and there, finding a place that will deliver to you
may take some work. Thankfully, we've found an establishment that does it right
and leaves our mouth watering every time.
Located in both the
greater Maadi and Heliopolis areas, the two Shawerma El Reem locations are
currently delivery only or pick-up.

With that being said,
don't hesitate to order. Shawerma El Reem is a great alternative to a typical,
fast food joint. It's no-fuss, providing fresh eats at a reasonable cost and
with just enough of that greasy fast food flair without the usual regret that
comes soon after. Delivery wait time is 60 minutes and the charge is 8LE; once they're
at your door, they provide a quick and professional exchange.
A range of appetisers include
a simple garlic dip with roasted bread (4LE), vegetable, cheese or meat sambousak
(8LE) and vine leaves; also for 8LE. Salads and soups are available too,
including a green salad topped with garlic sauce and shawerma (12LE), creamy
mushroom soup (9LE) and tomato soup (7LE).
The real reason we're
slightly obsessed with Shawerma El Reem, though, has nothing to do with the
aforementioned options – it all boils down to the Saj bread. True to the
traditional Lebanese flatbread, Shawerma El Reem has perfected it and topped
with your choice of filling, you can't go wrong.
For 16LE, the shawerma
combo includes a medium chicken shawerma on Saj bread, French fries and a soft
drink. The shawerma is moist, thick-cut and flavourful – paired with freshly
cut tomatoes and cucumbers, as well as the garlic sauce of course. Other
options include shawerma on rice with mushroom or curry sauce for 22LE.
Did we mention that
their Lebanese falafel is delicious too? For a whopping 4.5LE, the falafel
comes neatly packaged in the Saj bread with tomatoes, onions and tehina. The falafel
itself, cooked in fresh oil, holds together nicely and provides a spicy
punch.
If you're looking to
feed a few people, Shawerma El Reem offers a variety of platter options. For
68LE, the Arabian Shawerma Family Meal includes a family-sized meat platter,
family-sized French fries, two large garlic sauces, two boxes of pickles,
roasted bread and a litre of Coca-Cola. Another option is the mixed platter for
110LE, including a kilo of mixed chicken and meat shawerma, French fries, garlic
sauce and Saj bread on the side.
Desserts include your
standard Om Ali and crème caramel – both for 6LE.
Shawerma El Reem is
open until 3AM with their last order at 2AM. You can thank us afterwards.